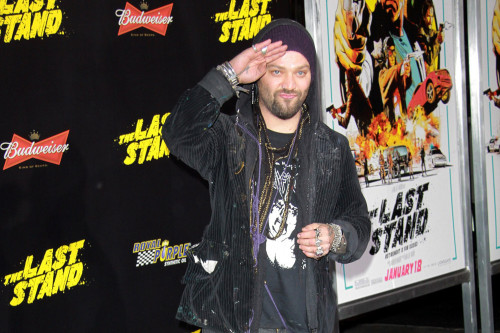 'Jackass' star Bam Margera has been arrested for allegedly causing a scene whilst drunk at a restaurant.
The 43-year-old stunt performer was previously married to Nikki Boyd and arrived at the Thai eatery in LA on Wednesday (29.03.23) afternoon where she and their five-year-old son Phoenix were dining, and allegedly started a "dispute" whilst intoxicated, according to TMZ.
Sources told the outlet that Bam was "unable to take care of himself and was arrested" as he was booked for misdemeanour public intoxication but it remains unclear whether the woman he is said to have yelled at his estranged wife.
Following the alleged incident, footage circulated online of Bam storming out of the restaurant before later appearing to have a heated conversation with one of the responding officers.
Earlier this month, Bam was arrested over domestic violence allegations and was later blasted by Nikki's lawyer, who claimed she has been left facing eviction and unable to send Phoenix to school because she has "no car [and] no money"."
In response to Bam saying a few days ago he was "disappointed" by what Nikki has said publicly about him, lawyer David Glass told TMZ: "Unfortunately, Mr. Margera doesn't seem to understand what 'supporting your wife and child' means.
"Nikki has no car, no money, is being evicted from her apartment, and can't afford to send their child to school, while Bam drops $50,000 on bail, and who knows how much on a Las Vegas spree.
"Either Bam, or his parents – whoever controls his money – has to provide Nikki with enough money each month so she can care for their son."
The pair married in 2013, but Nikki filed separation documents in Los Angeles last month, citing irreconcilable differences as a reason for their split, which she stated occurred in September 2021.
In the documents, she requested legal and physical custody of Phoenix, but wants Bam to have visitation rights in the Los Angeles county area, and is also asking for spousal support.
But in an Instagram post following the news, Bam claimed he didn't have to pay spousal support because he and Nikki were never officially married and insisted he had paid her $5,000 a month since the split but wouldn't send any more money if he wasn't allowed contact with his son.
Post source: Female First