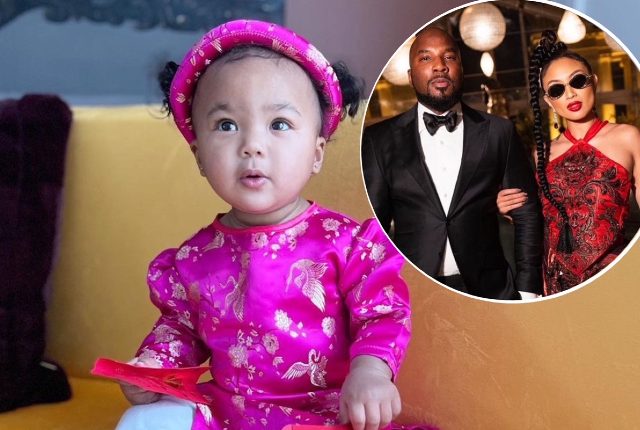 Jeannie Mai and Jeezy's daughter, Monaco Jenkins, is growing by leaps and bounds. The little one recently crossed the major milestone of walking while also celebrating Lunar New Year.
Jeannie Mai's mother, Olivia TuTram Mai, took to social media to celebrate her granddaughter's accomplishment. "Look at my super granddaughter," Olivia shared. "SHE CAN WALKING ON LUNAR NEW YEAR (sic)," the proud grandma exclaimed. "Yes, yes she just take her first step just by herself and Jeannie, she cry so much," Monaco's grandmother wrote online. "We all so happy and surprise and proud," she continued. "This is great luck and pray happy for everyone this new year of the cat."
Lunar New Year was officially on Sunday, January 22, 2023. This year is recognized as the year of the Rabbit, which some view as one of good luck. Those born in the Rabbit year can expect big changes, which are not limited to new careers as well as budding relationships.
Monaco Jenkins has experienced lots of big changes these past few days. It was just last week that the little one celebrated her first birthday. Jeannie Mai shared a video collage that partially showed her journey to becoming a mom, which served as a tribute to her baby girl.
"Happiest Birthday my Capricorn twin," Jeannie wrote to her daughter. "One year ago, you made me a mom, and girl you've transformed my life," the celebrity mom shared with her little one. "You got me cursing less, doing laundry more, and gave me new followers from our content," Jeannie mused.
"You're the best," the celebrity mom told her daughter. "We couldn't celebrate you for just one day, but thru (sic) this whole month with fam near and far," Jeannie said. "We adore you our precious Monaco Mai Jenkins."
Monaco is both Jeannie Mai and Jeezy's first child.
Photo: Jeannie Mai Jenkins/Instagram