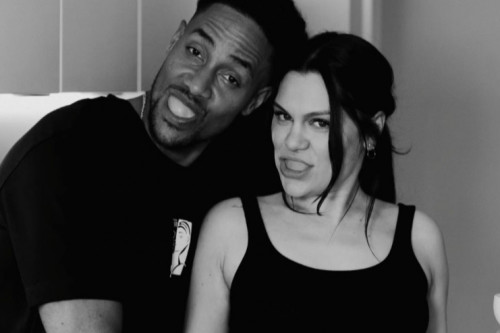 Jessie J said she has "all this love inside of me" as she confirmed her boyfriend Chanan Safir Colman is the dad of her newborn son.
The 'Price Tag' singer, 35, announced on 19 May she had given birth the previous week to her first child, and took to her Instagram on Monday (05.06.23) to say he was the dad as she shared a montage of pictures of her and her 39-year-old basketball player partner from throughout their relationship and her pregnancy.
She captioned the video of the images – which was soundtracked by Kanye West's 'Touch the Sky', and included snaps of Safir cradling Jessie's baby bump and the pair on holiday: "Ah f*** it. I can't keep secreetssssss with ALL AH DIS LOVEEEE INSIDE OF MEEEE.
"Happy 1st Father's day baby Damn it looks good on youuuu."
She put the same post on her Instagram Story and added: "POV: Me not keeping things private. Life is short man. Don't want to love him quietly anymore."
On Tuesday she posted another video montage to Instagram showing a series of black and white images of her and Safir jumping on a bed while she was heavily pregnant, which she captioned: For sure broke the (bed emoji.) Thank you big sis for capturing these."
The posts come days after Jessie told fans her plan for a natural birth was changed after a 40-week scan revealed her baby was the "wrong way around", meaning it would be safer for her to have a caesarean.
She wrote alongside a video of herself posted on Instagram of herself in a hospital gown playfully dancing on the ward where she had the procedure: "I spent 9 months prepping for a natural birth. Strict food, the epi no, yoga, swimming, hypnobirthing methods.
"I had a tens machine, a birthing comb, I wanted a pool birth ideally with no medication. BUT this was MY plan to stay disciplined and focused. I knew full well it could and would most likely go in a completely different direction.
"When people asked me 'So what's your birth plan' I said: 'I am open to surrendering to the safest way for my baby boy to arrive.'
"I had a scan at a few days off of 40 weeks and he was completely the wrong way around and stuck as he was a little chunkier than your average and long.
"I did everything to try and turn him for 2 months but he said 'Nah mum I wanna make an entrance out the roof, not the front door'.
"I was advised to have a planned C section for the safest birth. This video was taken 5 minutes before I went down to surgery… I had a birth and it was everything I wanted because I got him at the end of it, that's all that matters."
Post source: Female First