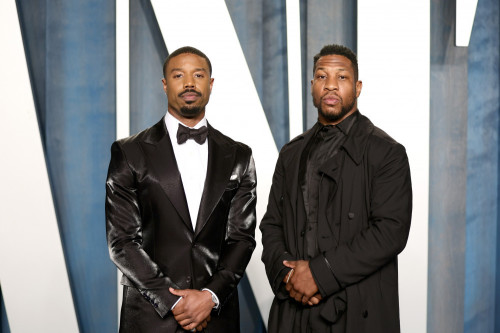 Jonathan Majors and Michael B. Jordan discuss "girl trouble" together.
The 33-year-old actor – who is currently thought to be single but has an eight-year-old daughter from a previous relationship – appears alongside his fellow singleton and 'Black Panther' star Michael, 35, in upcoming sports drama movie 'Creed III' and revealed that off-set, the pair like to talk about the problems they are having with the opposite sex.
He said: "We have a very amicable relationship that's my best buddy. We support each other on a day to day, so, if it's Marvel it's Marvel that day, if it's girl troubles, it's girl troubles that day — whatever, whatever. He's my brother."
Meanwhile, the 'Ant-Man' star went on to explain that despite his busy schedule he still manages to carve time out every morning to sit and reflect and insisted that he is "grateful" for everything that is happening for him
He told 'Entertainment Tonight': "There's a time every day, I get up in the morning. I train, I sit. I'm grateful to my creator, and he or she that created this whole mess that I'm in right now. So, I'm having a great time."
Jonathan's comments come just weeks after he admitted that he was grateful that his work would be seen by so many people in the cinema.
"It's exciting, the fact that… Think about theatre, right? You do a play, you have no idea if someone's coming to that show, you worked your a** off, (but) you have no idea. The tickets don't really matter, you already checked into a different ecosystem, you know? You're hoping people are gonna come see the work you've done in that space, in that black box, for that long, right? You're hoping it's gonna happen." With the MCU, and with Kang, there is such a beautiful sensation knowing that the work with myself and my collaborators do is going to reach people. That responsibility is something I honour and something I really take on.
"(There are) 50 guys outside. All 50 of these guys are gonna see ('Ant-Man and the Wasp: Quantumania'). That's beautiful, you know what I mean? The guaranteed impact, you know?"
Post source: Female First