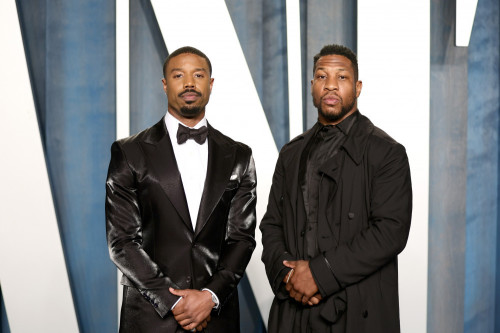 Jonathan Majors is hoping to remain a part of Michael B. Jordan's 'Creed' universe.
Jordan has directed 'Creed III' in which he reprises his role as Rocky Balboa's protege Adonis Creed and is said to have signed a major new deal with Amazon Studios – which has acquired MGM – to create a 'Creed-verse' featuring spin-offs and sequels – and Majors who plays boxer Damian 'Dame' Anderson in the third film is keen to be a part of it.
Speaking to Variety, he explained: "I know that's [the 'Creed' universe] always been an aspiration for brother Michael. I don't know how far he's going to take it. I've seen a few things that are very exciting. It's on now. He's got the ball. He's gonna run with it … I will be as involved as brother Michael will let me."
One of the first spin-off projects said to be in the works is a 'Drago' movie which was in development at MGM and will centre on Rocky's Russian foe Ivan Drago (Dolph Lundgren) and his son Viktor Drago (Florian Munteanu), who was introduced in 'Creed II'.
There are also reportedly plans to focus a spin-off around on Adonis' daughter Amara.
Jordan recently insisted he can't wait to get started on more 'Creed' projects, telling Deadline.com: "Building the 'Creed' universe is something that I'm really excited about."
During the Los Angeles premiere of the third movie, Jordan also thanked the whole team for supporting him as he made his directorial debut, saying: "This journey over the last three years has been incredible. Never thought I could do what y'all say I did. I couldn't have done that without the people that I just named in this incredible, incredible cast. It's a team effort.
"Every day I tried to show up and I wanted to impress them. I wanted to let them know that I wasn't doing it just to do the job. And finding the truth within the Creed family was really, really important to us. So, thank you, guys, so much for having my back every step of the way, even when it's difficult."
Post source: Female First