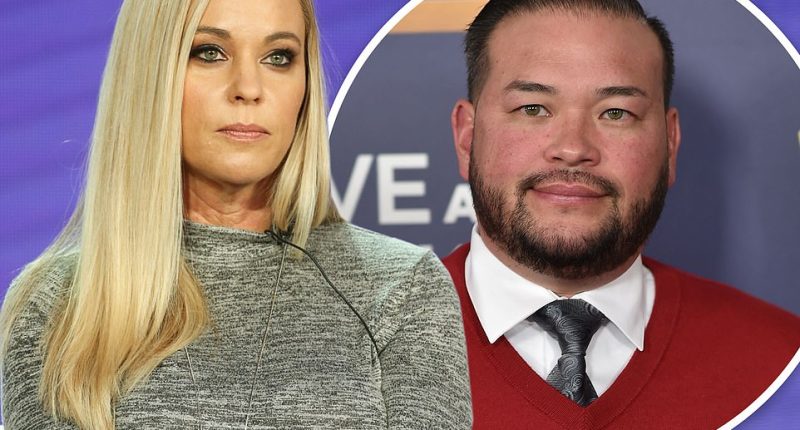 Advertisement
Kate Gosselin has lost her court battle against ex-husband Jon Gosselin, after she sued him for over $132,000 in alleged back child support for their eight children. The former reality TV star, 48, initially filed an adverse revival against Jon, 46, on September 7, requesting a Pennsylvania court to enforce the payment of a prior judgement. But judge James E. Gavin ruled to strike the judgment, with the case closed as of November 14, according to The Sun. The old judgement, filed back in March of 2018, is child support in the amount of $132,875.
Jon's legal team claimed that Kate – who shot to fame with her ex and their 8 kids on TLC's Jon & Kate Plus 8 – filed the claims in response to him being awarded custody of their children, Hannah and Colin. 'She is suing for support for money that was created by domestic relations in 2012. It was at the time she wanted legal custody of the kids so she could film and earn more money,' a source previously told the publication. 'She is relentless and desperate for money so she is now trying to sue.' The court battle centered around a 'judgement note' in Kate's favor, which was filed in 2012, before Jon became estranged from all but two of his children.
The court papers read: 'We believe and therefore state that the purpose of the Judgment Note is to enter judgment as a penalty should [Jon] file a complaint seeking child custody, which he did, and on which he succeeded. [Jon] has not paid this amount. A contract cannot penalize a party for asserting their parental rights to the point that asserting them becomes unbearable in practice. Furthermore, the asserted penalty term punishes the child. It does so not only by removing the child from a beneficial life with a father, but also by making it impossible to determine the best interests when they are in dispute. ' Jon's legal team requested that the judgment would be deemed 'void.' 
Judge Gevin ruled the Petition to Open/Strike Judgment should be 'held under advisement' to allow both parties to figure out other dispute resolution options on October 3, before he decided to dismiss the case. Earlier in November an insider told The Sun Kate 'hasn't had a job other than reality TV for 17 years' and that she is 'doing what she can to get money'. They added: 'It looks like Kate's financial situation is dire. Why else would she be pushing another lawsuit?' In August 2022, Kate's lawyer claimed Jon still owed her the $132K after he accused her of stealing $100,000 from two of their kids' bank accounts.
In legal documents, obtained by The Sun, Kate confirmed that she did make two separate withdrawals of $50,000 from their teenagers Hannah and Collin's trust accounts, but claimed it was 'to survive' and 'meet her and the children's expenses.' Before they turned 18 in May 2022, Jon had custody of sextuplets Hannah and Colin, while Kate had custody of Leah, Alexis, Joel, Aaden. She also had custody of twins Mady and Cara, 21. During an interview with the British newspaper, Jon said he believed the mother-of-eight withdrawing 'any money from these accounts without permission' is 'disgusting and it's morally wrong.' 
The reality star then alleged that Kate has not reimbursed her children for the loan. 'You can't just live off your kids' money,' Jon added, despite Kate's rebuttal, in legal documents, in which she says her children actually owe her money—since she funded their private school education and various living expenses. In the filing, Kate claimed that the kids' trust 'owes' her '$387,000 technically,' but that she was 'not looking to collect that.' Jon also told The Sun, he only learned of the missing money when he 'gained custody of the two children in 2018 and saw their bank statements.' 
He and the mom-of-eight had set up trust accounts for their large brood to keep the money they earned on TLC and doing promotional activities safe until turning 18. After she was asked in court about taking the money, Kate insisted she would 'have to keep borrowing from it to survive.' At the time, however, she raised eyebrows for purchasing a $750,000 lakefront home in North Carolina with a private pier and swimming pool. The outlet also pointed out that she received $40,000 per episode for her show Kate Plus Dates, which ran for six seasons. Jon went on to express his anger over the situation as he feels she is a 'hypocrite' for 'telling the world she has saved her children's money when she's actually been stealing for them.' 'There's been no remorse from her at all,' he marveled. 'Now, they're 18 she thinks she can get away scott-free.' 
In May, his youngest six children Aaden, Alexis, Collin, Hannah, Joel, and Leah all turned 18. 'I am free! Free! Free in the aspect of I have adult children now,' Jon joked to ET, at the time. 'Now it's time for me to move on – dating – moving on with my own life. It's like starting over pretty much,' he said, a year after splitting from his longtime girlfriend Colleen Conrad after nearly seven years together. Jon only had custody of two of his eight children, Hannah and Collin, and he said he's 'worked really hard in building independence in' them. The former couple reportedly only communicate through their attorneys following the end of their acrimonious decade-long marriage in 2009. Jon & Kate Plus 8 aired for five seasons on TLC spanning 2007-2017, once amassing 9.8M viewers with the fifth season premiere. Read the full story: https://www.dailymail.co.uk/tvshowbiz/article-12773157/Kate-Gosselin-LOSES-court-against-Jon-Gosselin.html?ito=msngallery
Want more stories like this from the Daily Mail? Visit our profile page here and hit the follow button above for more of the news you need.