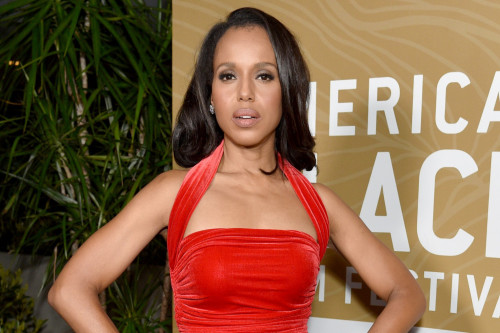 Kerry Washington gave a false name when she had an abortion in the early days of her career.
The 46-year-old 'Scandal' actress has opened up about her decision to have a termination in the early 2000s not long after landing the lead role in Spike Lee's 2003 film 'She Hate Me' – revealing she was in her 20s when she experienced an unplanned pregnancy following a romantic encounter.
In her new memoir 'Thicker Than Water', she recalls how she gave a false name to protect her privacy and admits she previously felt "shame" over her decision. However, in an interview with PEOPLE, Kerry insists she feels it's important to speak out about her experience. She said: "I struggled a lot in the beginning with whether or not to include my abortion story … But I started to feel like it was really important for me to share this.
"This story had so much to do with my understanding of myself and the world as my career unfolded … It's just so important to me that abortion is not a bad word, and that my abortion is not another thing on the list of things that I'm ashamed of."
Kerry – who is now mum to three children – went on to explain the recent changes to America's abortion laws also impacted her decision to speak out after the US supreme court's decision to overturn the landmark Roe v Wade case last year effectively removed women's constitutional right to undergo a termination.
She added: "We're at a moment where it's really important to be telling the truth about our reproductive choices because some of those choices are being stripped away from us.
"I'm telling my truth about my life, excavating some of my secrets. I don't want my not telling it to make anybody think there is shame to be had."
Post source: Female First