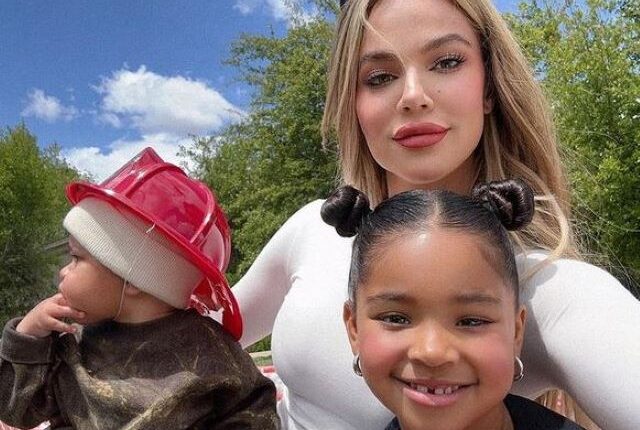 In the season three premiere of Hulu's The Kardashians, Khloe Kardashian bravely opened up about the guilt that she felt surrounding her son Tatum's surrogacy.
The Good American co-founder and her ex-boyfriend, Tristan Thompson, welcomed the now, nine-month-old baby, via a surrogate in August of 2022.
In a conversation with Scott Disick, Kardashian opened up and talked about her struggles to connect with Tatum, feeling guilty about using a surrogate to give birth to her second child.
"But a surrogate process—Kim [Kardashian] knows—is very hard for me. It's a mindf#@k. It is really the weirdest thing," she said to Disick. "[I do feel less connected]. People do say it takes a minute to feel connected but Kim said hers was easy. This is not easy."
Later on in the episode, Kardashian said that, she "… definitely buried my head in the sand during that pregnancy that I didn't digest what was happening. So I think when I went to the hospital that was the first time it really registered. It has nothing to do with the baby."
Kardashian admitted that she was in "a state of shock" from the entire experience.
Khloe continued saying that the entire birth felt like a "transaction."
"I felt really guilty that this woman just had my baby and I take the baby and go to another room and you are separated. It felt like such a transactional experience because it is not about him. I wish someone was honest about surrogacy and the difference of it. But it doesn't mean it is bad or good. It is just very different."
In the episode, SKIMS founder Kim Kardashian reflected on her own surrogacy journey with Chicago and Psalm, sympathizing with her sister stating that Khloe did indeed have a hard time with the process.
"She had a really hard time accepting the whole process. I do think that there is a difference when the baby is in your belly—it actually feels your real heart. Think about it. It touches your organs. There is no one else on this planet that will feel you from the inside like that."
In addition to baby Tatum, Khloe shares five-year-old daughter True Thompson with Tristan Thompson. Khloe gave birth herself to True.
Photo Credit(s)/Featured Image: Khloe Kardashian Instagram