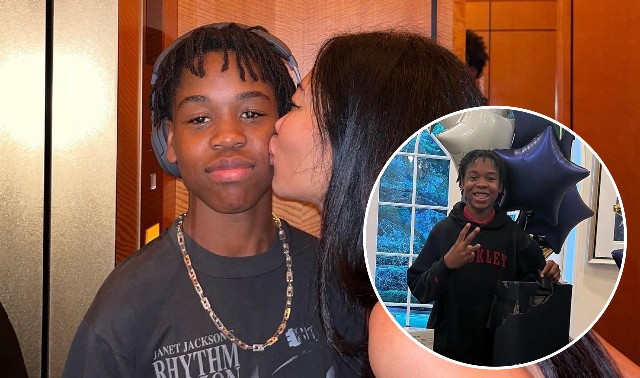 Kimora Lee Simmons celebrated her son Gary's 14th birthday on Monday, taking to Instagram to share a heartwarming tribute to her football-loving teenager. The 48-year-old entrepreneur shared a carousel of photos with her followers, showcasing moments from Gary's football-themed birthday bash.
In the series of snapshots, Simmons is seen beaming alongside her son, planting a loving kiss on his cheek.
"Gary Lee!!! HAPPY BIRTHDAY to my football star, handsome, fly young man! You're an amazing brother, friend and incredible son and we're so lucky to have you in our lives!" exclaimed the proud mom in her heartfelt caption.
"I'm so proud of you! We all love you soooo much!
Kimora Lee Simmons made the big decision to adopt Gary nearly four years ago. In an interview with Us Weekly in 2020, the Baby Phat CEO expressed her gratitude for having Gary in her life, describing the experience as a "blessing" and "super fortunate."
"I'm blessed and super fortunate to have a boy like him and it's been a very painless sensation. He just dropped in like he was born there," she said.
Adoption had been on Simmons' mind for several years, and the opportunity to welcome Gary into their family came about "through family." Despite entering the family at an older age, the fashion designer attested that Gary's adjustment had been remarkably smooth.
 Simmons is a devoted mother to a total of five children. She shares daughters Aoki, 21, and Ming, 23, with her ex-husband Russell Simmons; as well as her 14-year-old son Kenzo, from her previous relationship with Djimon Hounsou. Additionally, she is the proud mother of 8-year-old son Wolfe, fathered by Tim Leissner. Gary, her adopted son, became part of the family when he was 10 years old.