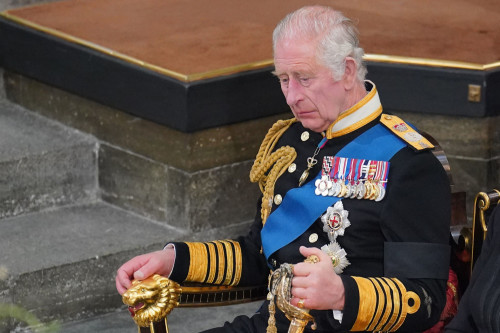 King Charles has paid tribute to the "devoted service" of Queen Elizabeth on the anniversary of his mother's death.
The 74-year-old king has marked one year since the monarch passed away aged 96 by releasing a photograph previously unseen by the public, which was taken by late legendary photographer Cecil Beaton in 1968, accompanied by a touching message of reflection.
Charles said in the message: "In marking the first anniversary of Her late Majesty's death and my Accession, we recall with great affection her long life, devoted service and all she meant to so many of us."
The king went on to express his gratitude for the "love and support" he and wife Queen Camilla have experienced over the year as they have taken on their new roles.
He added: "I am deeply grateful, too, for the love and support that has been shown to my wife and myself during this year as we do our utmost to be of service to you all."
The king and queen had originally planned to mark the anniversary in "quiet contemplation" at home in Scotland, but in recent weeks had a change of heart after being "deeply touched" by the public wave of grief in response to Elizabeth's death.
They opted not to return to their own Birkhall home on the Balmoral estate on Thursday (07.09.23) night, but instead stayed at the castle itself, where the queen died during her annual summer break in Scotland, and plan to stay there on Friday (08.09.23) night too.
A source told MailOnline: "I think it will be of comfort to be surrounded by so much that was familiar to her."
Another insider explained the couple will "balance between reflecting properly on the public nature of moment but finding the space for privacy to reflect in private".
Meanwhile, the Prince and Princess of Wales will commemorate the life of the queen at St David's Cathedral in Wales, with a source explaining it was important to Prince William and his wife Catherine to be in the country to honour their new titles and the bond Elizabeth had with the Welsh nation.
A 41-gun salute will be fired at midday in London's Hyde Park on the order of Captain Amy Cooper, who was the lead rider in the procession that carried the queen's coffin to lie in state at Westminster Hall.
At the Tower of London, the Honourable Artillery Company will carry out at 62-gun salute, and at 1pm, the bells will ring at Westminster Abbey to mark Charles' accession to the throne.
Post source: Female First