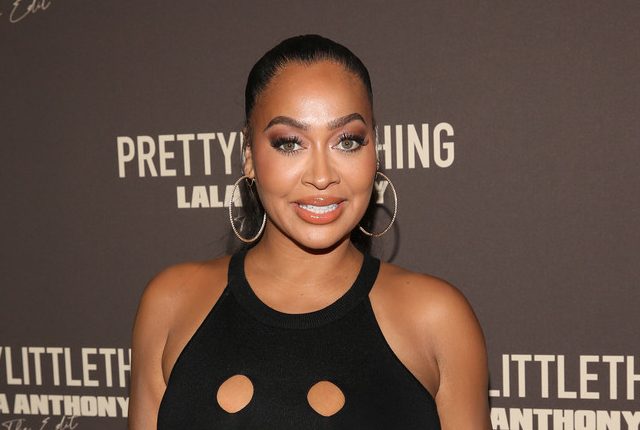 La La Anthony's son, Kiyan Anthony, is very protective of his mom. The television personality recently stopped the The Jennifer Hudson Show where she discussed her son's reaction to the thought of her dating.
"He doesn't like it," La La said when asked about Kiyan's feelings regarding her going on dates. "And I'm like, 'So you just want your mom to be alone forever?' He's like, 'Yeah, kind of,'" she shared.
"But anytime his friends want to go out and do something he's like, 'Alright mom bye see you later I'm going here,'" La La said of Kiyan's social life. "And I'm like, 'You just leave me in a heartbeat but you don't want me to have anybody!'"
Kiyan does not just ask questions before his mom goes out on a date. He also intercepts communication between physical meetups.
"I feel like it's my dad in the house or something," La La mused when speaking of her son's protectiveness. "I'm sneaking [around], texting," the celebrity mom revealed. "This is crazy," La La exclaimed. "Or he's like, 'Mom let me see your phone real quick,' like for what? What do you need my phone for?"
La La Anthony filed to divorce Kiyan's father, Carmelo Anthony, in 2021. It seemed at one point the television personality would work things out with her husband. La La, however, ultimately decided against repairing her marriage.
Carmelo and La La co-parent their son in harmony despite their irreconcilable differences. "I lead by example," the celebrity mom said of her rearing practices on The Jennifer Hudson Show. "Like, if I get dressed for an event or something and I'm just leaving he might not say anything," La La shared. "So I'm like, 'Do you think mom looks nice?' And he's like, 'Yeah mom you look really nice,'" the celebrity mom revealed.
"And I tell him just make sure you say that because women like to hear compliments. Women like people to do nice things for them," La La said. "So I start with me so he can learn from me how to do that," the celebrity mom explained.
"Or if someone does something nice for you, acknowledge that, let them know that was nice or that made you feel special," La La said of her decision to instill gratitude in her son. "I try to make sure he's in touch with his feelings."
Kiyan Anthony is La La Anthony and Carmelo Anthony's only child. Carmelo has two kids in all.
Photo: Getty Images