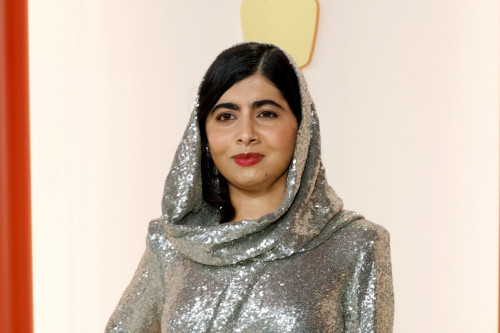 Malala Yousafzai has begged for "kindness" after Oscars host Jimmy Kimmel was viciously trolled over his interaction with her at Sunday night's (12.03.23) ceremony.
The 25-year-old Nobel Peace Prize winner was quizzed by the presenter about the Harry Styles and Chris Pine "spit-gate" incident last year and the bizarre segment led to him getting a battering from online trolls who accused him of disrespecting the activist – who survived being shot by the militants in Pakistan when she was 15.
Malala has now spoken out and called for the abuse to stop. She shared a video of the incident on Twitter and wrote: "Treat people with kindness."
She among the guests at the Academy Awards in Los Angeles on Sunday night (12.03.23) and she found herself on camera after presenter Jimmy walked into the audience to ask questions from fans.
He turned to Malala and said: "[A fan named Joanne] asked, your work on human rights and education for women and children is an inspiration, as the youngest Nobel prize winner in history, do you think Harry Styles spit on Chris Pine?"
Malala looked baffled before responding: "I only talk about peace," and Jimmy replied: "You know what, that's why you're Malala and nobody else is. That's a great answer, Malala. The winner is malala-land, everybody."
The question was referring to an incident at the Venice Film Festival in Italy last year when One Direction star Harry was accused of spitting on his 'Don't Worry Darling' co-star Chris as they sat in the audience at a screening. Chris later explained Harry was just leaning over to tell him a joke.
Malala found herself at the centre of attention again when a performer dressed as a bear – in reference to Elizabeth Banks' new movie 'Cocaine Bear' – crawled along the aisle and seemed to paw at her, prompting the host to exclaim: "Cocaine bear, leave Malala alone!"
The activist was a guest at the ceremony as an executive producer of 'Stranger At The Gate' which was nominated in the category for Best Documentary Short Film but lost out to 'The Elephant Whisperers'.
Post source: Female First