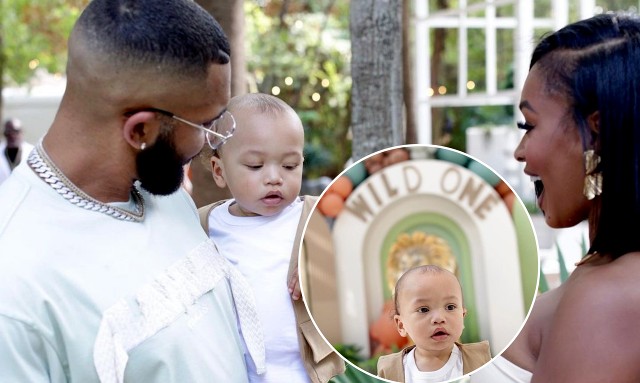 P-Valley stars Miracle Watts and Tyler Lepley have reason to celebrate – their adorable son, Xi Lei Lepley, has turned one year old! Over the weekend, the doting parents threw a  Safari-themed birthday party to mark their son's special milestone.
Watts took to Instagram to share photos from the event with the simple caption, "XI'S WILD ONE".
The journey to parenthood for Watts and Lepley began with a pregnancy announcement in May 2022. They chose to share their joyful news through a creative video, cleverly reenacting a heartwarming scene from the iconic movie, "The Notebook." As the video concluded, Miracle Watts, a multi-talented actress, entrepreneur, and model, unveiled her baby bump to the world.
Miracle Watts, who is a first-time mom,  had an added reason to cherish her pregnancy. Her partner, Tyler Lepley, went above and beyond by gifting her a custom Mercedes-Benz G Wagon as a push present. This thoughtful gesture not only touched her heart but also contributed to what she described as an enjoyable pregnancy.
She took to Instagram to express her gratitude, writing, "This has been an amazing pregnancy, I am blessed beyond measure and so thankful for my partner. You have made this journey such a peaceful breeze. I Love You Man, My Dawg 4L!!! Energyyyyy Baby, you did that!! #PushPresent."
The love story of Miracle Watts and Tyler Lepley began in 2021 when they first crossed paths on the set of P-Valley. Since then, their relationship has blossomed, and they have continued to strengthen their bond as a couple and now as proud parents.
Photos: Instagram