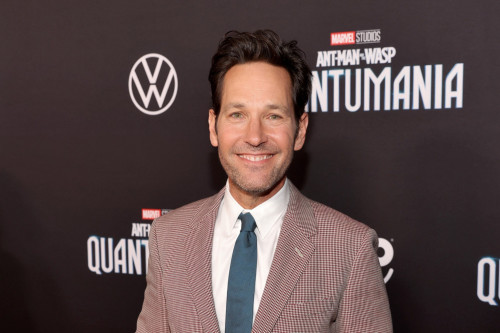 Paul Rudd says his kids "don't care" that he is a Hollywood star.
The 53-year-old actor – who has been married to screenwriter Julie Yaeger since 2003 and has Jack, 17, and 13-year-old Darby with her – is known for starring in the tile role of the Marvel Cinematic Universe movies 'Ant-Man' but noted that his kids are not interested because he is "just dad."
He said: "I think I'm dad more than I'm Ant-Man or in the MCU (Marvel Cinematic Universe). Yeah. They don't care, nor should they!"
Meanwhile, the 'Wanderlust' star – who was named Sexiest Man Alive by PEOPLE magazine in 2021 before the outlet passed the baton onto Chris Evans the following year – went on to add that his career has been a "wild ride" and admitted that being part of the MCU has afforded him so many opportunities that are not normally possible.
He told PEOPLE: "It's like this kind of thing doesn't just happen, so it's coming up now on nearly 10 years, which is a long time, and it's been a wild ride. 've gotten to go to many different countries. I've met lots of people I never would've met, and to be a part of something that has such global inter
est has been an amazing experience."
Paul previously admitted that he works out "like an athlete" to prepare for the 'Ant-Man' movies.
Asked if he is as "ripped" as fellow MCU star Chris Hemsworth, he laughed as he replied: "No one has ever asked me that question because I think everyone already knows the answer!
I think I was shirtless briefly in the first one, maybe from the side in the second one. But I really, really work out hard for these movies. I train like an athlete for these movies. One, in case they want to do a shirtless scene and I can do it and not feel disgusted, but it does help even in my own preparation for the role. I feel like less of an imposter. But I did do two [shirtless] scenes, which, got cut!"
Post source: Female First