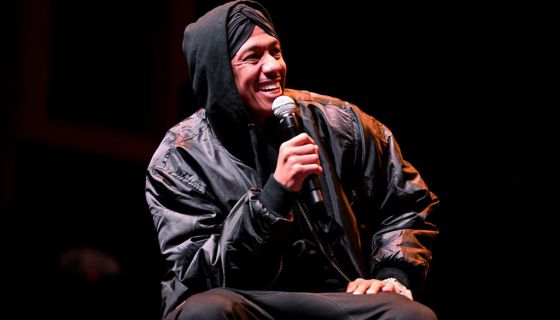 Nick "12 Kids & Counting" Cannon loves love but says he won't commit to one woman, even the six mothers of his dozen children.
The Wild 'N Out creator is notorious for his basketball team of kids, but his romantic life remains a mystery. On the latest episode of Stepping Into The Shade Room, Nick opened up about his fruitful fatherhood, dating, and over 20-year career. When it comes to settling down with one woman, even one of his six co-parents, Nick said that it would do a "disservice" to his family.
Nick Cannon Talks About Success In Love
The multi-talented star is proud of his success in business and entertainment. When asked about being successful in love, Nick said it depends on your definition of success. The 42-year-old said he loves love, but not in the traditional sense.
"It doesn't even say 'hopeless romantic,' I have 'fearless romantic' tatted on my back. I love love. I fall in love in like a day!" he joked.
Nick gushed about reading romance novels and a steady rotation old school love songs. Nick also admitted therapy helped him form healthy boundaries about loving the experience more than the person. It's still not only about finding one individual for the non-monogamous mogul.
"I think the origins of [monogamy] feel like ownership. I want you to be free and able to move how you want to move. I don't want to put any restraints on you. I say 'to define you is to confine you,'" Nick explained.

"What if somebody told you you're only allowed to have one friend for the rest of your life? Are we talking about intimacy? At some point all that stuff stops working. You're going to need somebody that you can rock with as a friend forever," he continued.
Pursuing Just One Woman Woman Would Do A "Disservice" To Nick Cannon's Family
Nick isn't just uninterested in finding a wife. As one of the hardest-working men in Hollywood, he doesn't even have time for a girlfriend. Nick even said pursuing just one woman would do a "disservice" to his family.
"My focus now is my children and then my business. I literally don't have time," he said, explaining that it might take four months for a second date. "I don't have that energy. I don't have that bandwidth. I feel like I'd do a disservice to my family if I'm out here looking for love."
That also applies to the mothers of Nick's children, Mariah Carey, Brittany Bell, Abby De La Rosa, Alyssa Scott, Brie Tresi, and Lanisha Cole. He said that he loves each of the women and cherishes their unique bonds, but committing to one would still be unfair to the others.
"I love them! They're amazing!" Nick said.

"But you don't see a future with one of them?" The Shade Room's Social Content Director Thembi asked.

"Yeah, they're the mothers of my kids!" Nick joked without skipping a beat.

"I mean, even just one of them," Thembi continued.

"Yeah, but then it does a disservice to the other ones!" he shrugged. "I'm over here! And if you want to see me, I'll be at the house."
It sounds like Nick somehow has it all figured out, even if it's unconventional.
"Don't you ever get lonely?" Thembi asked.

"How? I've got 12 kids! What do you think I'm missing when you say 'lonely?' I've got everything I want. It's a blessing," Nick said.
Non-Committing Nick Takes The Women In His Life Very Seriously, Says Mariah Has A Special Place In His Heart
On a serious note, Nick emphasized his respect and personal dynamics with each woman in his life. Contrary to internet speculation, growing his family isn't random or a conspiracy to harvest stem cells from his children.
"I don't like to generalize. Every person I've had a child with, we've had a real connection. From a solidarity space of years of understanding what this is going to be. We don't take it lightly," Nick revealed.
When it comes to a single woman having a special place in his heart, his ex-wife Mariah is still his greatest love. In addition to idolizing her since childhood, Nick says her generosity and positivity inspired how he lives his life.
Check out Nick Cannon's full interview on Stepping Into The Shade Room below.
What do you think about Nick Cannon's philosophy on romance and children?


Post source: Bossip