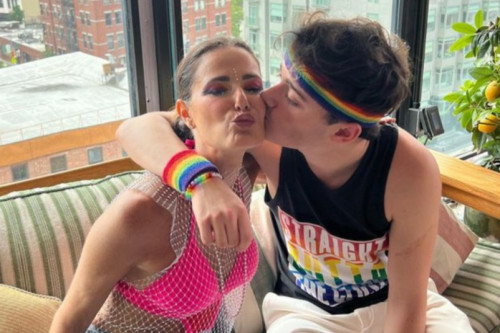 Noah Schnapp has celebrated his first Pride Month since coming out as gay.
The 'Stranger Things' actor revealed his true self in January this year and was joined by his mother Karine, kissing her on the cheek as he shared photos of himself during New York City's celebrations.
Alongside a red love heart emoji, he simply wrote on Instagram: "First pride."
As well as the sweet snap of him and his mum, Noah also posted a photo of himself dancing in the fountain at Washington Square Park, and then taking a dip in a rooftop pool.
In the joyous pictures, he can been seen wearing a rainbow 'Straight Outta The Closet' t-shirt, which is a parody of NWA's iconic 'Straight Outta Compton' design.
Six months ago, the 18-year-old star announced he was gay in a video on TikTok and admitted his friends and family told him they already knew.
In the clip, he said: "When I finally told my friends and family I was gay after being scared in the closet for 18 years and all they said was 'we know.'
"You know what it never was? That serious. It was never that serious. Quite frankly, it will never be that serious."
Noah's on-screen character in 'Stranger Things', Will Byers, is gay, and the teenage actor even referenced his alter ego's sexuality in the TikTok caption.
He wrote: "I guess I'm more similar to Will than I thought."
Meanwhile, Noah previously addressed Will's sexuality during an interview in July.
The actor confirmed that Will had feelings for his best friend Mike Wheeler – played by co-star Finn Wolfhard – adding that it was "100 percent clear that he is gay".
He told Variety: "Obviously, it was hinted at in Season 1: It was always kind of there, but you never really knew, 'Is it just him growing up slower than his friends?'
"Now that he's gotten older, they made it a very real, obvious thing. Now it's 100 percent clear that he is gay and he does love Mike."
Post source: Female First