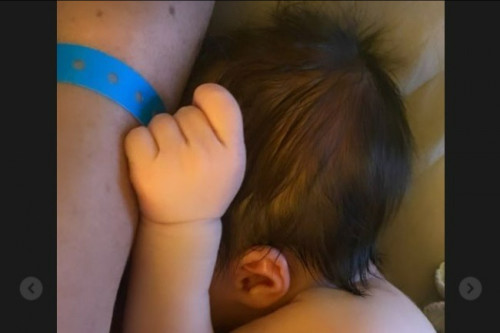 Pete Doherty has become a father for the third time.
The Libertines frontman – who already has Astile, 19, with singer Lisa Moorish and Aisling, 11, with model Lindi Hingston – and his wife Katie de Vidas have welcomed a baby girl into the world, the singer-and-actress has revealed.
Katie shared a photo of the tot's hospital wrist band on her Instagram story, which revealed the baby was born on 31 May, and another photo showing the little girl from the back, revealing an impressive head of dark hair.
It was revealed in December that the 44-year-old singer was about to be a dad again as Pete told fans during a concert in Strasbourg that his wife and Puta Madres bandmate was pregnant.
A source told The Sun newspaper at the time: "They happily talked about the news with fans who waited behind to speak to them after the show."
Pete now lives in France with Katia after they married in October, and insists he has been clean of heroin for three-and-a-half years and has also quit drinking.
Their wedding was a private ceremony at the Domaine Saint Clair hotel, France, in September 2021 and came two days after they confirmed their engagement.
The former Babyshambles star is happily living his life away from the spotlight and recently revealed he's been clean of heroin for more than two years.
Discussing his addiction battle and his music career, Pete said: "I'm in recovery I suppose I'm two and a half years clean of heroin which is a big deal for me and yeah I'm ticking along writing music, still writing music."
The singer has Astile from his relationship with Lisa Moorish and in 2009, it was suggested that he banned from seeing his son because of his drug addiction.
Lisa – who was the lead singer of the indie band Kill City in the early 2000s – previously said: "Peter has on-and-off problems with his recovery so it was a really difficult decision to make.
"But when he came out of rehab last year, and started to get his life in order I thought the time was right. I want Astile to have a dad."
Post source: Female First