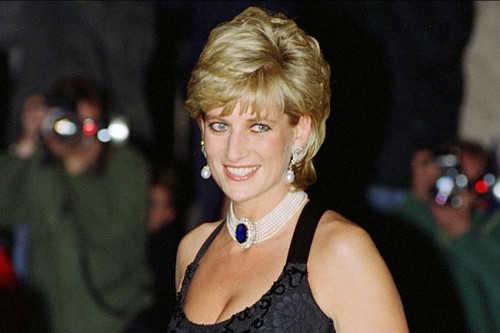 Three dresses worn by Princess Diana have sold for £1.3 million.
The designer gowns were sold at auction in Beverly Hills, California, as part of Julien's Auctions' 'Legends: Hollywood and Royalty' sale of more than 1,400 items, and far exceeded the prices organisers were expecting to get for the lots.
A red silk Bruce Oldfield dress worn by the late Princess of Wales to the premiere of 'Hot Shots' in London's Leicester Square in November 1991 fetched £458, 484 – almost triple the auction house's £160,000 estimate.
The second gown, a black and jade dress by Catherine Walker, who was Diana's personal designer for over 16 years, that the princess had worn to a gala event in Toronto, Canada, in October 1991 fetched £458, 484.
In addition, a custom black velvet and ivory frock by the same designer, which had been worn by Diana – who died in a car accident in August 1997 – to a private function had been expected to sell for $48-£64,000, but bidding went far beyond that as a buyer paid £407, 541.
Martin Nolan, the executive director, admitted the sale of Diana's dresses "exceeded all expectations".
The gowns hadn't been seen in public for more than 30 years and had originally been bought at an auction in New York by US businesswoman Ellen Petho just two months before Diana's death.
At the time, the buyer – who died in January aged 82 – used money she had saved to buy a house to pay £120,000 for five of the princess' dresses, in a sale of 79 gowns that was held to raise money for the AIDS Crisis Trust and the Royal Marsden Hospital Cancer Fund.
But Mrs. Petho ended up only keeping three of the gowns, and her husband decided to sell them after her death to raise money to fund a scholarship for mature art and design students in honour of his wife.
Her daughter Karrie told the Mail on Sunday newspaper: "Our mother read the inscription inside [the auction catalogue] about Prince William telling his mother that the dresses should not sit in her closet, that they should be out in the world and doing good. I think that's what inspired her."
Post source: Female First