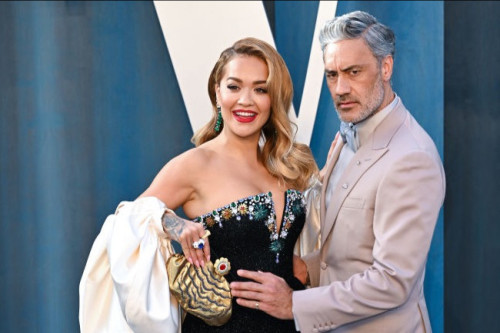 Rita Ora has hailed her husband as a "sex god".
The 'Let You Love Me' singer, 43, who married the Oscar-winning 'Jojo Rabbit' director, 48, in August 2022 after they met a year earlier, blushed as she paid tribute to his bedroom skills during an appearance on 'Watch What Happens Live with Andy Cohen'.
When Andy, 55, asked her to describe the "aura" of her famous friends pals, she was left stumped when it came to her director beau, and blurted out: "Just… just… sex god!"
Rita first met New Zealander Taika at a barbecue he hosted in 2018 and they later began dating in 2021 when they were both filming in Australia.
Rita asked him to marry her while they were on holiday in Palm Springs in the summer of 2022 and they got married a few weeks later on 4 August, with the singer wearing two Tom Ford gowns and partied the night away with an Elvis Presley impersonator.
She revealed she wore her mum's pearls to her big day and was walked down the aisle by her sister Elena.
Rita recently admitted she settled down after being hit by a "quarter life crisis" aged 25.
The 'Praising You' singer said she has used dating in the past to feel less lonely before she was struck by a "panic attack" while waiting to meet Prince Charles.
Rita – whose exes have included Calvin Harris, 39, who has just married his TV presenter girlfriend Vick Hope, 33, and actor Andrew Garfield – told the 'Diary of a CEO' podcast: "My twenties felt like I was kind of alone, so I was looking for things in the wrong places.
"With love, sometimes it wouldn't be good for me and people would tell me and I wouldn't listen.
"I was eating really bad and I was drinking."
Rita added about having her first anxiety attack at a Prince's Trust event in 2016 while she was waiting in a line to meet the then-Prince Charles: "I went into that bathroom and my hands were tingling and I was having the craziest panic attack. That was the first time, when I was 25.
"I thought my legs were going to give way, I didn't know what was going on. I'd met our now-King before, I was performing that day as well, I don't know what happened.
"I went out and stood in that line. I met Charles and I was just not there."
Rita has also recently been opening up in interviews about how she feels content since getting married – and admitted she wrote her new track hungover the day after her wedding.
She told Capital Breakfast when asked if her 'You and I' love song was written the day following her nuptials: "Yes, I was very hungover… the producer that I wanted to work with was only available the day after I got married.
"And I was thinking, 'Ahh, I can't cancel it.' And so I walked in. I said, 'Listen, I just got married and I'm really hungover. I don't know how this is gonna go down. But I don't want to miss this session. So let's do it.'
"And he was like, 'Okay, well, let's just sing about you getting married.'
"I said, 'Alright, cool, let's write an ultimate wedding song. And actually, that's my favourite song on the album."
Post source: Female First