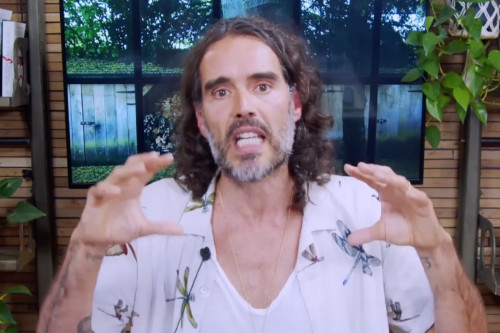 Russell Brand is facing claims of sexual assault from a sixth woman.
The 48-year-old comedian has been accused of offences ranging from rape and sexual assault to emotional and physical abuse by four women – whose claims emerged as part of a major media investigation that broke on Saturday (61.09.23) – and a fifth alleged victim who wrote about her claims in a book published in 2014.
A spokesperson for the Metropolitan Police revealed on Monday (18,09.23) a woman had contacted them on Sunday saying she was sexually assaulted by the entertainer in Soho, central London, in 2003.
Police are set to investigate the latest allegation which came directly to them and have appealed for other potential victims to come forward.
A spokesperson for the force said: "We are aware of reporting by The Sunday Times and Channel 4's Dispatches about allegations of sexual offences.
"On Sunday, 17 September, the Met received a report of a sexual assault which was alleged to have taken place in Soho in central London in 2003.
"Officers are in contact with the woman and will be providing her with support."
The alleged offence took place three years before the alleged rape and sex abuse claims that were levelled at Brand over the weekend by four women as part of a joint investigation into his treatment of women by The Times and Sunday Times newspapers, as well as Channel 4's 'Dispatches' show.
A fifth woman, Jordan Martin, wrote in a book published in 2014 about the alleged abuse she endured at the hands of the comic in February 2007.
Brand denies all claims against him and said any relationship he has had has been consensual.
The four women who came forward as part of the media investigation say his offences were committed between 2006 and 2013.
The Met added they first spoke with The Sunday Times on Saturday and have "since made further approaches" to the paper and Channel 4 "to ensure that anyone who believes they have been the victim of a sexual offence is aware of how to report this to the police."
The spokesperson added: "We continue to encourage anyone who believes they may have been a victim of a sexual offence, no matter how long ago it was, to contact us."
The first woman to come forward as part of the media probe into Brand used the pseudonym Nadia to claim the comic raped her against a wall at his LA mansion in 2012.
A second victim, using the name Alice, said she had an abusive relationship with Brand when he was 31 and she was 16 – and added he called her 'The Child' when they were together and once had to punch him in the stomach to get him off her after he got her to perform a sex act that made her choke.
A third alleged victim named as 'Phoebe' in the investigation alleged he attacked her in 2013 at his house in West Hollywood.
The fourth accuser claims she was sexually assaulted by Brand, who she alleges was physically and emotionally abusive towards her.
Jordan Martin wrote in her book 'kNot: Entanglement with a Celebrity: A Memoir' that Brand subjected her to emotional abuse, sexual abuse and made her brush her teeth so hard her gums bled.
Hours before the investigation into him broke on Saturday, Brand issued a furious denial of the claims against him in a 2 minute, 45 second video posted to his millions of followers on X and YouTube.
He said the claims were part of a "serious, concerted agenda" to control "spaces" such as his YouTube channel and that he felt "attacked".
Brand also promised to "look into this matter" as he considered it "very serious", before signing off by urging his fans to "stay free".
Post source: Female First