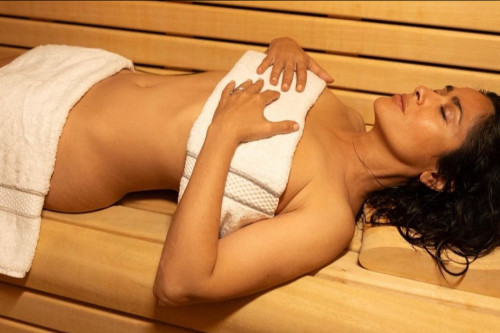 Salma Hayek is using saunas to sweat out "stress".
The 'From Dusk till Dawn' actress, 56, posted images of herself on her Instagram of her lounging on a wooden sauna bench completely naked under a white towel to say she wanted to honour World Wellbeing Week.
She captioned the pair of steamy images: "Embracing the healing power of the sauna and sweating out the stress this #WorldWellbeingWeek."
Salma covered her privates and chest with small folded white towels, prompting fans to cheekily urge her to take them off.
Her focus on wellness comes after she admitted she is now finally happily settled after she had to be "dragged" down the aisle.
The 'Frida' actress has been married to French businessman François-Henri Pinault, 61, since 2009, but said she turned down two of his proposals before they finally got hitched and said their nuptials felt like an "intervention" by her family.
She told Glamour magazine about how she had no idea she was getting married on Valentine's Day until her relatives got involved: "They just took me to the court.
"My parents, my brother, they were all ganging up on me. I had a phobia of the marriage thing.
"I was nervous… I had said yes to the marriage, but I just wouldn't actually show up on the day or do it."
Salma added she was then relieved to find her relationship with François didn't feel different when they got married.
The couple had been dating for three years when they wed and were already the parents of daughter Valentina, 15, and Salma has previously about rejecting his requests for marriage: "I am ashamed to admit how many times he had to ask me.
"Three times! That was the biggest fear I've ever overcome.
"He is an amazing man, self-confident and feminist, who likes strong women and also knows how to take care of them."
Post source: Female First