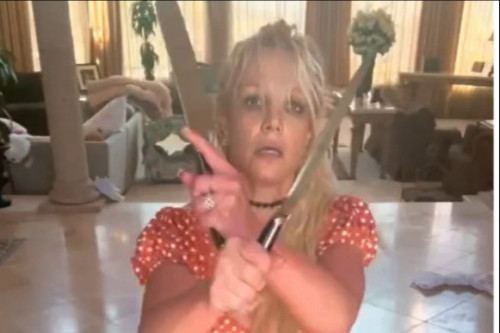 Britney Spears' estranged husband Sam Asghari has accused Donald Trump, Jr. of being a "bully" for mocking the singer online.
The model/actor came to his ex's defence after the son of the former US president took to Instagram to share a picture of Britney in her hey day captioned: "America Under Trump" and a recent image of the singer dancing in a bikini holding prop knives with the words: "America Under Biden" in reference to current US president Joe Biden – under which Trump, Jr. simply wrote: "Yup".
Sam – who split from Britney in August after a year of marriage – hit out at the post by resharing it on his Instagram stories, writing: "It's not okay to be a bully" and tagging Trump, Jr.
It comes just days after police were called to perform a welfare check on the 'Toxic' singer after a video which seemingly showed her dancing around her home holding knives sparked concern for her safety.
Captain Dean Worthy of the Ventura County Sheriff's Office told the New York Post newspaper's Page Six column that a sergeant who has dealt with numerous incidents involving Britney over the years attended the call. He added: "Somebody close to Britney had seen the video posted on social media, where she's dancing and twirling with knives in her hands, and they were really concerned for her mental well-being." Cops spoke to the security team at Britney's home in Thousand Oaks, California, via the intercom and were told the 'Gimme More' singer was "fine" and there was "nothing going on". The policeman said: "They didn't want to let the officer in to see her physically." Britney later took to Instagram again and urged fans not to "worry" about her, despite sporting a bandage following her first knife dance, insisting the props were fake and she was just taking inspiration from Shakira's performance at the MTV Video Music Awards (VMAs) earlier this month. She wrote alongside a new knife-wielding dance video: "I know I spooked everyone with the last post, but these are fake knives that my team rented from Hand Prop shop in LA. "These are not real knives. No one needs to worry or call the police. I'm trying to imitate one of my favourite performers Shakira … a performance I was inspired by !!! "Cheers to us bad girls who aren't afraid to push boundaries and take risks [nail painting emojis] (sic)"
Post source: Female First