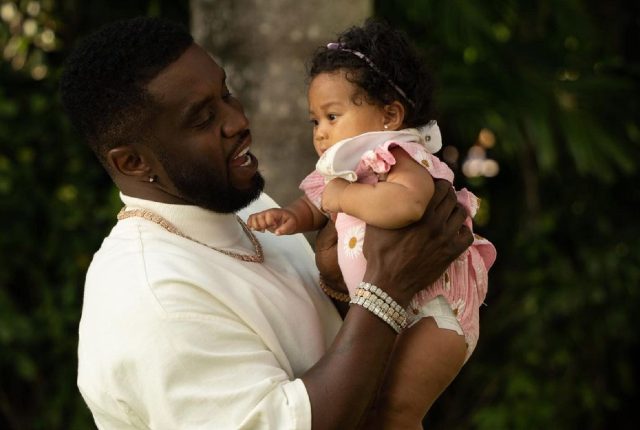 Baby love! Sean "Diddy" Combs shared a new picture of him with his youngest daughter, Love Sean Combs, on Tuesday (Mar. 14).
The Hip Hop mogul was photographed while smiling and holding his daughter high. "I'm Big Love," Combs shared. "She's Baby Love," the celebrity father added.
Love Sean Combs made Diddy a father for the seventh time last year. Many were shocked to learn of the Hip Hop mogul's family expansion as Diddy's youngest daughter is well into her teen years. Still, Sean Combs expressed excitement about expanding his family.
"I'm so blessed to welcome my baby girl, Love Sean Combs, to the world," the celebrity father said in a tweet. Diddy has been sharing pictures and video clips of his baby girl ever since.
Sean Combs dotes on all of his kids in different ways. It was during an interview on Caresha, Please with Yung Miami that the celebrity father shed light on his older daughters.
"I'm proud of my daughters," Diddy shared. "Like, when I see my daughters I just get so filled with pride," he added. "They're so beautiful and strong," the Hip Hop mogul shared.
"They're like really, really strong young women," Diddy reiterated. "They have their own opinions and they have their own points of views. And they have their own dreams. It's just really beautiful to see, and it's clear why women run the world."
Running the world for Diddy's twin daughters, Jessie and D'Lila, has come with challenges. The teen girls lost their mother, Kim Porter, to pneumonia in 2018. Sean Combs has also navigated the path of single parenthood since the death of Kim Porter.
"Talking to God is what really got me through it," the celebrity father shared with Yung Miami. "I had a wonderful life in time with Kim," Diddy shared. "I have beautiful kids. I'm just like the luckiest man in the world to even have had the experience to have her in my life."
Photo: Sean "Diddy" Combs/Instagram