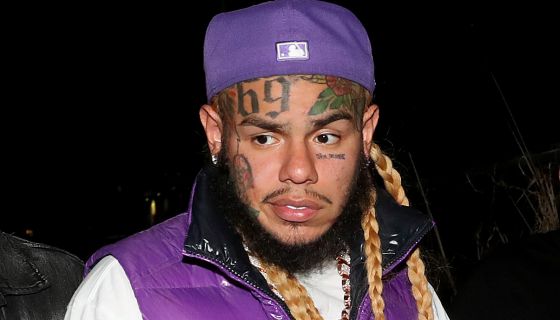 After years of Internet trolling, Tekashi 6ix9ine was beaten inside a South Florida LA Fitness.
Since the day Tekashi 6ix9ine became a cooperating witness in the Treyway RICO trial, the internet believed the saying "snitches get stitches" was true. Social media critics believed the second he was released from jail he would have issues in NYC or Los Angeles, but trouble for the rapper never came. Upon being released from house arrest,  6ix9ine boldly shot a music video in the streets of New York and the trolling rapper even hit the road again and started doing shows. Of course, some people tried to confront him but his million-dollar security detail swiftly handled any opportunist.
Video Surfaces Of Tekashi 6ix9ine Being Jumped Inside South Florida LA Fitness
According to TMZ, 6ix9ine was finally caught lacking in a south Florida LA Fitness this week The rapper apparently thought all his trolling and snitching was forgiven and decided to hit the gym without security. That proved to be a mistake because he was jumped by several men in the sauna.
His lawyer Lance Lazzaro told TMZ he was attacked at the gym and tried to fight off the ambush but there were too many people. The attackers beat him to a bloody pulp and then dipped. 6ix9ine was rushed to the hospital after the attack to treat injuries to his jaw, ribs, and back. Lazzaro also revealed he plans to contact the feds so 6ix9ine will get the protection he needs to avoid these situations.
As for who attacked Tekashi, he won't have to drop a dime on who they were. Social media detectives already found the man claiming responsibility for the beating and some sleuths believe the entire thing was just a stunt to put 6ix9ine back in the spotlight.
You can watch a portion of the bloody attack below and decide for yourself.


Post source: Bossip