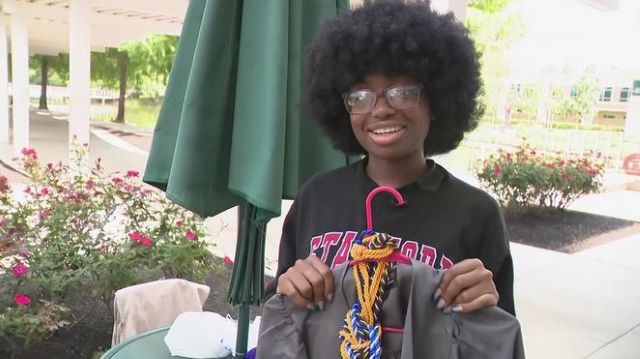 Congratulations are in order for Cypress, TX teen, Sarah Olufemi-Dada. The CyFair High School student has earned a full-ride to her dream school, Stanford University, in addition to completing high school with an associate's degree in science.
And of course, when the teen found out about her acceptance into Stanford University, she was more than elated!
"I was screaming and I read Stanford. I was like, no way, this is my first choice," Olufemi-Dada said the local CBS station, KHOU 11, in a recent interview.
The teen was very open with the news station stating that the journey has not been easy, yet, the hard work paid off more than she could have ever imagined.
"I wanted to be great and though I couldn't be great in my instrument or my sport, I knew at least with academics, I could do something," Olufemi-Dada said.
And that she did.
In addition to her Stanford Acceptance, Olufemi-Dada is stepping on to the California campus already with a degree in hand. As a part of the LoneStar College CyFair College Academy, Olufemi-Dada and about 500 other students already have college degrees.
"Students really gain benefit from being able to have this nurturing support of college while still in this high school environment before they go off truly on their own," LSC-CyFair president Dr. Valerie Jones said in the same interview.
Dr. Jones commented that this is the largest graduating class in LoneStar College history and expects to continue to see the enrollment numbers trend upward as pursuing an associate's degree helps to remove some of the financial burden for students who want to transfer to four-year colleges and universities.
"Students don't have to work as many hours or they're able to pick a university that may cost a little bit more because they've already accumulated such a significant savings."
So, just what does Olufemi-Dada plan on studying at Stanford? Well, she plans on studying computer science and biocomputational engineering, with the goal of becoming a leader in the healthcare industry.
Congratulations, Sarah! We cannot wait to see what amazing things will happen for you in the future!
Photo Credit(s)/Featured Images: KHOU 11 YouTube; Stanford University Instagram; LoneStar College CyFair Instagram