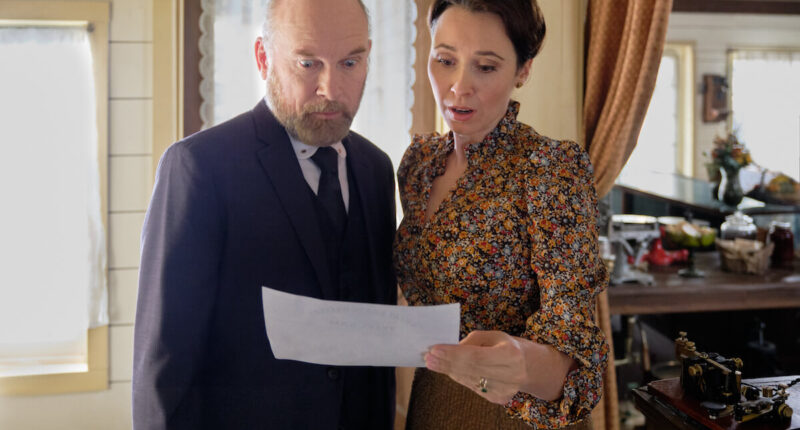 Is Elizabeth about to have a change of heart? The latest episode of Hallmark's When Calls the Heart saw the schoolteacher and single mom start to spiral when it seemed like Mountie Nathan might be in danger. Is this just PTSD stemming from her husband Jack's tragic death? Or is there something more going on? Plus, the governor's sudden arrival sends the residents of Hope Valley into a tizzy and we learn more about Montague's plans. 
[Warning: This article contains spoilers for When Calls the Heart Season 10 Episode 9.]
Hope Valley prepares for the governor's visit in 'When Calls the Heart' Season 10 Episode 9 
Last week, Rosemary (Pascale Hutton) was gung-ho about the prospect of the territorial governor visiting Hope Valley. But she may have gotten herself in over her head. The governor is coming to town, but he's arriving much earlier than expected. The problem? Rosemary has promised him a choir performance, a live radio broadcast, a seven-course dinner, and a black-tie ball, among other things. 
Pulling all that together was going to be challenging under any circumstances. With just a day to plan, it's virtually impossible. Still, everyone does their best to deliver on Rosemary's over-the-top promises, from Henry Gowen (Martin Cummins), who offers to build a stage, to Hickam (Ben Rosenbaum) and Mei (Amanda Wong) who are tasked with composing an original song extolling the virtues of Hope Valley. 
Governor Bixby Balfour (Mark Brandon) arrives before all the preparations are quite ready, but Rosemary ends up being OK with that. If things don't come off quite as she expected, "so be it," she says. It's a surprisingly sanguine (and refreshing) attitude from the usually high-strung character.
As for the governor himself, he doesn't show up until the end of "Deep Water," so we'll have to wait and see what his visit holds for Hope Valley. But the way his right-hand man whisks him away for a chat with Montague (Benjamin Wilkinson) doesn't inspire confidence. 
A farmer takes Nathan hostage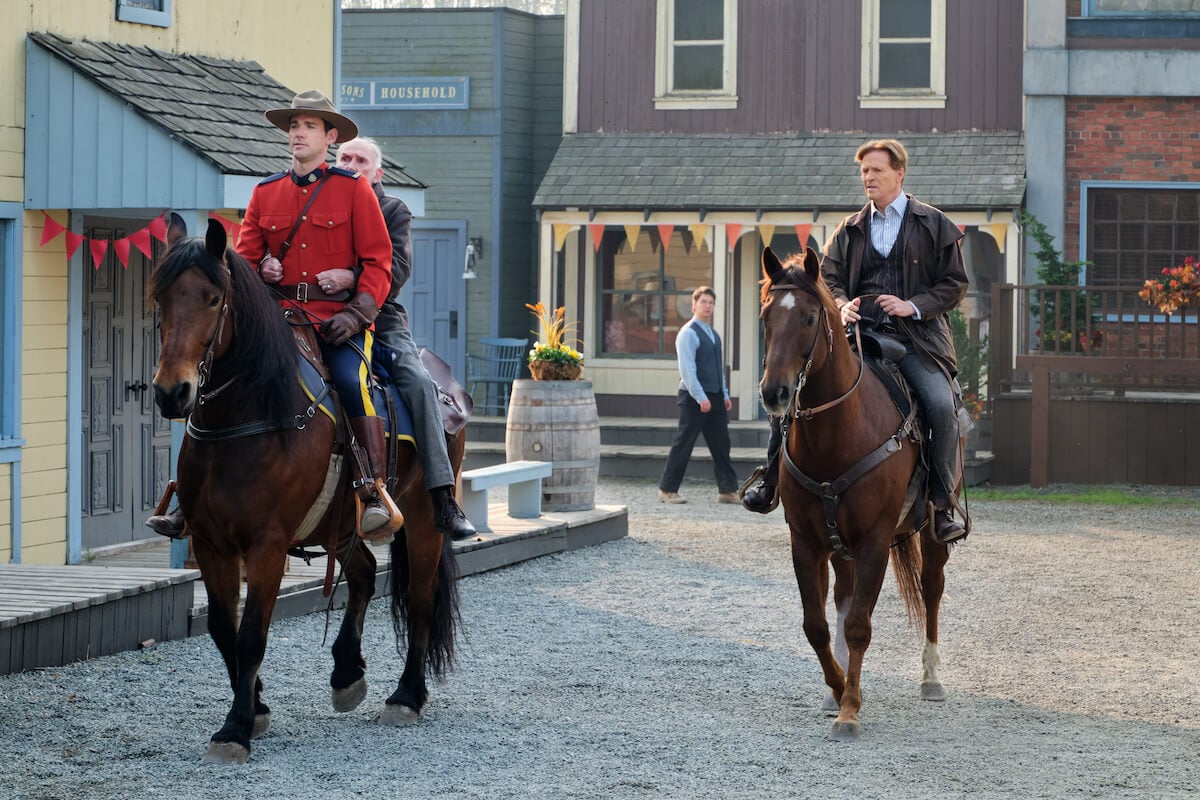 The other major drama in this episode of When Calls the Heart involves Nathan (Kevin McGarry). He and Elizabeth (Erin Krakow) finally share their suspicions about Montague and the still-missing Madeleine with Bill (Jack Wagner). Bill puts on his investigator hat and soon discovers that Montague and his crew are digging a trench on the land he sold to Madeleine. Meanwhile, Madeleine and her son have vanished and even Montague doesn't know where they are. Hickam suspects they aren't even engaged, and we think he might be right.
The mystery only deepens when Nathan heads out to Rock Creek on Mountie business. When he arrives, he finds an angry farmer named Clifford (David Longworth) engaged in a standoff with several Pinkertons. (And we know whenever Pinkertons show up in Hope Valley, it spells trouble.) Nathan attempts to reason with the man, who briefly holds him hostage. Our favorite Mountie is never really in serious danger, and Clifford soon reveals that he's been tricked into selling his water rights to Montague's Union City Holding Company. The Pinkertons are there to enforce the contract, and Clifford decided to fight back. 
Suddenly, those big lumber orders Lee's (Kavan Smith) company has been filling make more sense. He thought the wood was for trestle bridges, but it's actually for aqueducts. Union City Holdings plans to steal the area's water and send it to Union City, just like it did in Eagle Creek. Is there anything Hope Valley's concerned citizens can do? They're not sure, but for now, Bill, Lee, Rosemary, Elizabeth, Lucas, and Nathan agree to keep this knowledge to themselves. For now, their only advantage is that the company thinks they don't know what's going on, Lucas points out.   
Elizabeth and Lucas's wedding is just six weeks away 
Elizabeth and Lucas got engaged at the end of When Calls the Heart Season 9, but sometimes, it seems like the show has forgotten these two are planning to get married. Aside from some brief talk of choosing a dress, there's been little discussion of their upcoming wedding. Elizabeth also doesn't seem to be thinking much about their future together as a married couple, aside from shooting down Lucas' suggestion that he build her a new house. In the last few episodes, they've barely had any scenes together. Instead, the show keeps throwing Elizabeth together with Nathan, the man she rejected back in season 8. 
"Deep Water" begins with an update on Elizabeth and Lucas's wedding, which is happening in sex weeks. The invitations have gone out and RSVPs are rolling in. So far, so good. But rather than thinking about Lucas and her wedding, Elizabeth is distracted by Nathan. Whether it's thoughtfully gazing at him as he plays with Little Jack (Hyland Goodrich) or working with him to discover what Montague is up to, this Mountie is definitely on her mind. And when reports filter back to Hope Valley, that Nathan's been taking hostage, she panics. Is it because Nathan being in peril brings back painful memories of her late husband? She just visited Jack's grave last week, so we know she's been thinking a lot about him as well. Or is something else going on? 
Henry asks Elizabeth a tough question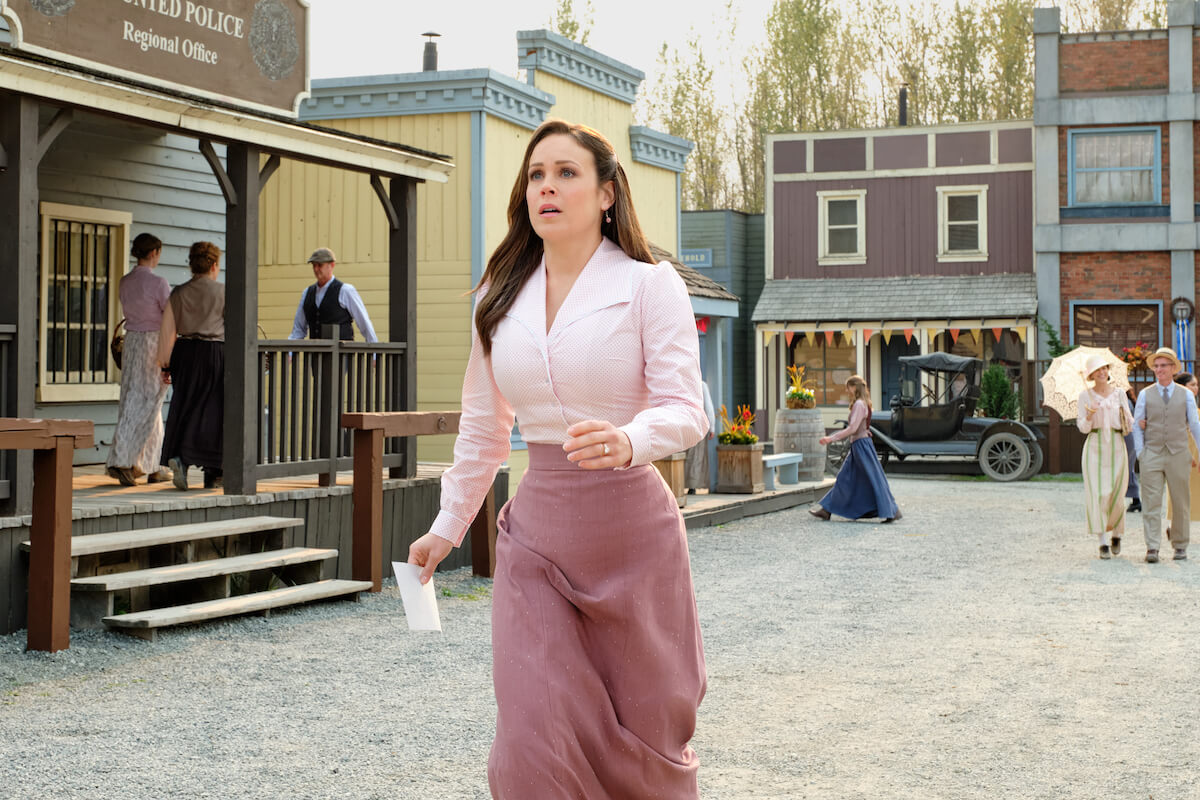 When Elizabeth freaks out after hearing Nathan's been taken hostage, she turns to an unlikely place for comfort: Henry Gowen. "I can't do this again," she cries. "Not again." 
Fortunately, Nathan returns unharmed, much to Elizabeth's relief. But she's so overcome with emotion, she has to retreat to the library to collect herself in private. 
Later, a concerned Gowen gently confronts Elizabeth, going against his instincts to offer her some unsolicited advice. 
"I think perhaps you should give some thought to how you were feeling yesterday," he says. 
Elizabeth tells Henry she's fine. She was just worried about a friend. 
"You're certain?" he asks. 
"I'm fine, Henry. You're mistaken," she says, before walking away. 
But Elizabeth is clearly not fine. And her tone and body language as she talks to Henry indicate his comments have cut close to the bone. Whether Elizabeth has developed romantic feelings for Nathan that she's trying to suppress, or if she's dealing with unresolved trauma and lingering grief from losing Jack, she's going to need to deal with how she feels sooner or later — and hopefully, sooner, given that her wedding to another man is fast-approaching.   
New episodes of When Calls the Heart Season 10 air Sundays at 9 p.m. ET on Hallmark Channel. 
For more on the entertainment world and exclusive interviews, subscribe to Showbiz Cheat Sheet's YouTube channel.