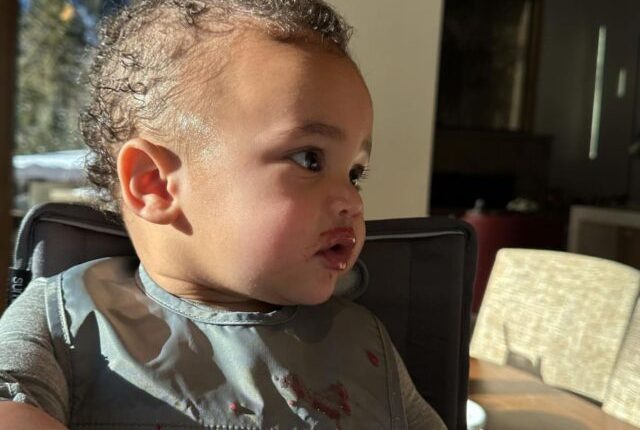 Aire turned one on February 2nd and the Kardashians have shared new photos of Kylie Jenner and Travis Scott's son for all of us to enjoy the milestone birthday!
The mother of two shared a sweet compilation video on Instagram with Christina Perri's "You are my Sunshine" playing in the background saying, "AIRE. my son, my moon, my stars. best year of my life with you. you complete us my angel. mommy loves you. happy 1st birthday. may God always bless you."
And of course, you cannot have a Kardashian birthday without a big blowout!
The Kylie Cosmetics founder switched her home decor from a colorful unicorn theme that was for Arie's big sister Stormi's February 1st fifth birthday celebration to a racecar theme for his.
She captioned a photo on her Instagram stories that showed a white, gray, and blue ball pit with black and white and race-car shaped balloons in the background, "Aire day today🤍." 
But of course, the 25-year-old didn't stop there! She shared another peek of birthday decor that featured the entrance to the party, created with Aire's head. The entrance was decorated with balloons and a little roadway leading inside.
The pièce de résistance was once you got into the party space, guests found Aire's name spelled out in balloon letters and also little ride-on motorcycles and cars for kids.
And a birthday would not be a birthday without a special cake. And Aire's cake was almost too spectacular to eat, as it featured the one-year-old in the drivers seat of his own race car!
Even grandma Kris Jenner got in on the birthday love posting on her own social media,"Happy Birthday to my precious grandson Aire!!!! You are the sweetest boy with the sweetest smile and are the light of our lives!!!"
Jenner continued, "You bring so much love and joy to our family and we adore you!!!! What a little cutie I can't believe you are 1!!!!! I love you with all my heart forever and ever Lovey xo.
If you remember, Aire's name was once upon a time Wolfe. The famous couple changed their son's name to Aire which is Hebrew for Lion of God.