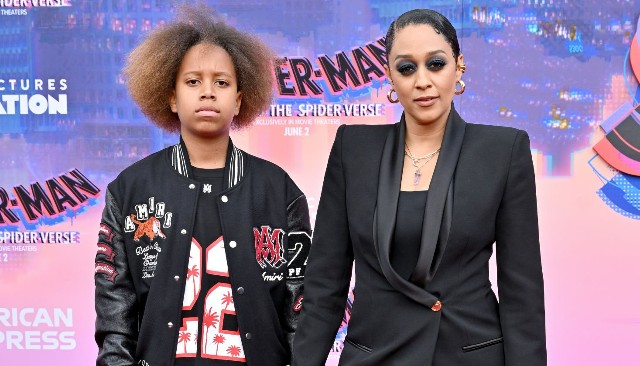 Tia Mowry and her son, Cree Hardrict, were two of many celebrities to attend the premiere of Spider-Man: Across the Spider-Verse on Tuesday (May 31). The event was held in Los Angeles and featured Cree ready to answer questions while in the spotlight.
The tween expressed praise for the first film in the Spider-Verse franchise. The action and characters particularly captivated Cree. "I cried," Cree said when sharing his reaction to the first film.
Tia also said she cried during the first film in the Spider-Verse. The celebrity mom doted on her son who will soon be twelve years old.
"He's a really, really good kid," Tia said of Cree. "I'm so blessed to have him as my son," the celebrity mom continued. "He's turning 12 next month," Tia beamed. "I can't believe it," Mowry said. "It's happened so fast."
To some fans, it indeed feels as if Cree were a little boy yesterday. Some were thrilled to learn the youngster got into his dream middle school last year. Tia's supporters have also seen Cree model alongside his mom and younger sister, Cairo, as the three promote Mowry's hair care brand.
"There is no thing called 'balance' when it comes to motherhood," Tia said during a recent interview. "I've had to learn throughout the years that there will be days where I am spending more time with my children and not as much time on my career," the celebrity mom revealed.
"Or, there will be days where I'm spending more time on my career and not necessarily my children," Tia continued. "But basically, I just practice being kind to myself, being forgiving of myself on those days," Mowry shared.
"I take everything a day at a time," the actress further explained. "My priorities are to make sure that my children are happy, my children are healthy, my children are safe. But then. I've also learned about making sure that my cup is also filled."
Cree and Cairo are Tia's kids with her ex-husband, Cory Hardrict. Cree celebrates his twelfth birthday on June 28, 2023.
Photo: