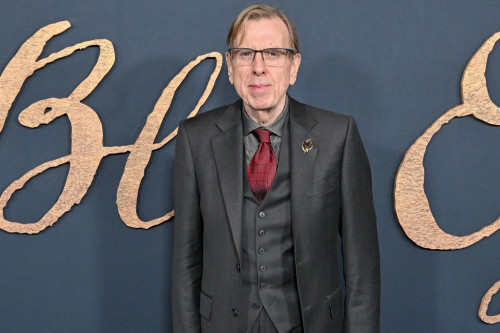 Timothy Spall has likened 'Harry Potter' to a "religion".
The 66-year-old actor played the role of Peter Pettigrew/Wormtail in five movies in the franchise based on J.K. Rowling's novels and is amazed by the appeal that the films still hold for viewers.
Speaking to Variety, Timothy said: "'Harry Potter' is such a big deal. It's edging towards becoming a bit of a religion. It's bizarre.
"It's great storytelling, but it was also beautifully made. One day, I wandered into a studio and there was someone (manually) putting leaves on a tree, one by one. That's dedication. They were doing that for the audience."
Timothy's latest role is as Father Christmas in the Yuletide flick 'Joy to the World' and he described it as an "unusual" festive picture.
The 'Sixth Commandment' star said: "It's a Christmas story, but an unusual Christmas story.
"It's about a troubled 12-year-old kid who is pretty obnoxious, really. He is clever but doesn't like his life. His mum is struggling and his brother is desperate for a present he is not going to get. He is full of hate. Then he witnesses a robbery.
"He sees one of them rob a bank, tries to pursue him and then encounters this old man in the woods, under the tree, claiming he is Father Christmas.
"Obviously, the kid thinks he's mad. It's a sweet movie, but it has this hard edge to it, too. It's all about the battle for this boy's soul. Which way is he going to go?"
Timothy explained that he doesn't want children watching to recognise him as Santa in the film – which also features James Nesbitt and Bronagh Waugh – as one of his grandkids spotted him in 'Enchanted'.
He said: "When I was being made up as Father Christmas, they would always say: 'Can we film you?' I said no. How many magicians reveal their tricks?
"I have seven grandchildren. One of them is always watching 'Enchanted' and goes: 'Oh, fat grandad.' So she knows, but I hope other kids won't recognise me this time. I want them to wonder: 'Is this real Santa?'"
Post source: Female First