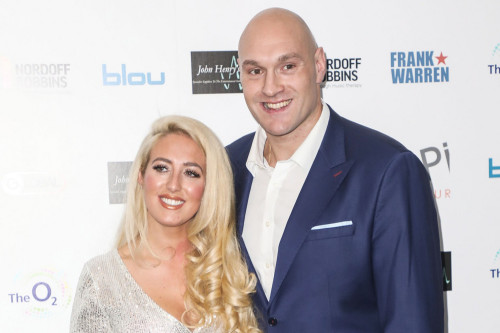 Tyson Fury and his wife Paris Fury have announced the birth of their seventh child.
The heavyweight champion boxer, 35, and his reality star partner 33, welcomed the tot on Monday (18.09.23) and shared the news with OK! magazine.
Paris said in the piece, which Tyson posted on his Instagram: "We're over the moon to have welcomed our baby boy to the Fury family. His brothers and sisters can't wait to meet him and create lots of Fury fun!
"Our boy is the most perfect addition and we're bursting with love for him. It's crazy how you can love someone so quick."
New mum-of-seven Paris shared a picture of her new arrival wrapped in a white blanket while she and Tyson posed against a backdrop of sunflowers.
The boxer was seen in the snap grinning in a baseball hat and shorts, while Paris wore a patterned summer dress.
Childhood sweethearts Tyson and Paris met aged 14 and married five years later aged 19 and 20 respectively.
Their six other children are Venezuela, 13, Prince John James, 11, Prince Tyson II, seven, Valencia, five, Prince Adonis Amaziah, four, and two-year-old Athena.
The Furys announced in March they were expecting their seventh child, with
Tyson posting and image of him with Paris on a cinema date with the message:
"I get to do date night with my beautiful pregnant wife @parisfury1. God is great. Seventh baby incoming. Fantastic news to cheer me up."
Paris said online at the time: "Baby NO 7 on the way God willing."
In Paris' book 'Love and Fury: The Magic and Mayhem of Life with Tyson', she said about her dream of having a huge brood with 'The Gypsy King;: "Tyson and I had always intended to carry on the great Traveller tradition and have a big family.
"Three children at the very least, we'd say to each other, maybe even ten if we were lucky."
Tyson has said he would love to have 10 kids and joked he wants enough for a "mixed football team".
Post source: Female First