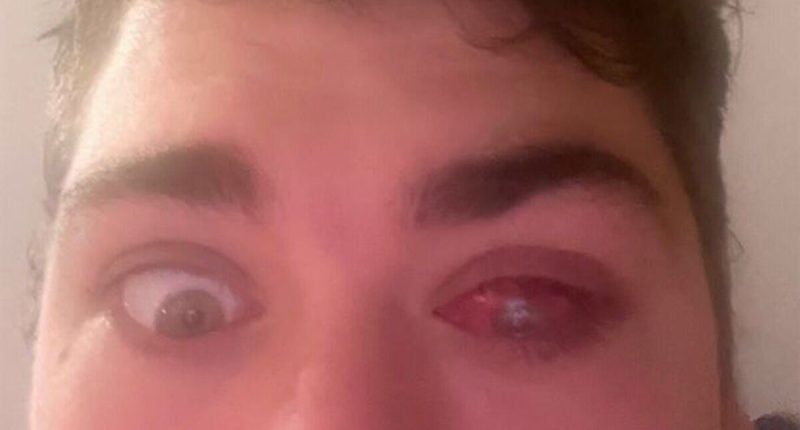 Research in 2018 suggested infections from flesh-eating parasites were on the rise, putting thousands at risk of the potentially blinding infection. Infection from free-living amoeba affects contact lens users in 85 percent of cases, the Centers for Disease Control and Prevention has warned. Scientists are now pushing for lenses to be supplied with warnings regarding safe use.
Mike Krumholz, was just 21 when he lost his vision to a flesh-eating parasite after sleeping with his contact lenses on.
He told the Daily Star: "I went to work and after that, I took a 40 to 45-minute nap. My contacts just felt really irritated like they were floating in my eye. I took them out and there was nothing wrong.
"So the next morning I woke up, I went to play baseball and I had to take my contacts out right away.
"I told my parents 'I gotta go to the eye doctor, something isn't right'. I thought I had pink eye or something and [the doctor] took a picture of the back of my eye after dilating – and he was like something is not right."
READ MORE: Three vitamins that could help protect against vision loss – expert
Mike underwent a series of tests under the care of several specialists and was diagnosed with herpes simplex 1 virus.
Believing the symptoms would die down over time, he was prescribed a course of antibiotics and steroids, but this did little to help.
The student was eventually told by his doctors that he had a case of acanthamoeba keratitis.
After receiving a formal diagnosis, he underwent photodynamic therapy with conjunctival flap surgery, which involves removing the "white" of the eye and putting it over the pupil to help fight off the parasite.
The 21-year-old currently has no vision in his right eye, except for a "black and grey" flashing comparable to TV static.
He noted: "It's very very weird not being able to see people. You don't want people to feel bad for you but at the same time, you want to be living like a 21-year-old who is in college."
Despite Mike's current condition, he is not eligible for an eye transplant due to his age.
He noted: "The pupil is covered – I don't have one right now, you can't see it. That's because the cornea is so cloudy and that's because the ampea (parasite) has eaten away so much of it."
READ MORE: Three vitamins that could help protect against vision loss – expert
In 2018, researchers at UCL and Moorfields Eye Hospital discovered a threefold increase in Acanthamoeba keratitis since 2011, in South East England.
Researchers leading the study explained that the rare infection was more likely to affect users of reusable contact lenses.
This is particularly the case for wearers who use ineffective solutions and practice other poor hygiene methods.
The findings, detailed in the British Journal of Ophthalmology, explained the condition is therefore largely preventable.


Post source: Daily Express