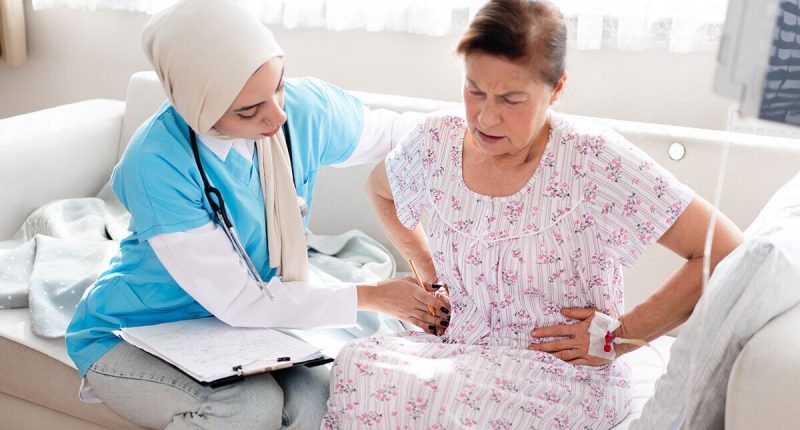 Cervical cancer is a cancer found in the cervix – the opening between the vagina and the womb. In most cases the disease is caused by an infection from the human papillomavirus, which is more commonly known as HPV. It can usually be prevented by attending regular cervical screenings and new research has highlighted the potential dangers of limiting these appointments based on age.
Of all the age groups women aged 80 and older had the lowest survival rates.
Study co-author and University of California (UC) professor, Theresa Keegan, said: "Our study found worsening five-year relative survival from cervical cancer with each increasing age category for both early and late-stage diagnoses."
The team, from the UC Davis Comprehensive Cancer Centre, believed this proved how cervical cancer screening was still vital for women over the age of 65, despite this not being the current system in the US.
Similarly in the UK, the NHS only invites women and people with a cervix for screenings – a smear test – who are aged between 25 and 64.
The study's lead author and UC Davis senior statistician, Julianne Cooley, said: "Our findings highlight the need to better understand how current screening guidelines might be failing women 65 and over.
"We need to focus on determining the past screening history of older women as well as lapses in follow-up care.
"We must utilise non-invasive testing approaches for women nearing age 65 or those who need to catch up on their cervical cancer screenings."
Her colleague Frances Maguire, a UC Davis senior epidemiologist, added: "Scheduled screenings may also decrease as women approach 65, increasing the likelihood that women have not been adequately screened prior to the upper age cut off."
READ MORE: Covid variant has 'potential' to cause next epidemic surge – a 'looming threat'
As part of the research, the team used a large set of population-based data from the California Cancer Registry.
This state-mandated cancer surveillance system has collected cancer incidence and patient demographic, diagnostic, and treatment information since 1988.
The data was used to identify all women aged 21 years and older who were diagnosed with a first primary cervical cancer from 2009 to 2018, the 10 most recent years that complete data was available.
It comes as previous studies have shown that 23.2 percent of women in the US who are over 18 are not up to date on recommended cervical cancer screening.
This year it was reported that 30 percent of eligible people (or 4.6 million) in England had either never been screened for cervical cancer or were not up to date with their screenings.
Cervical cancer is the 14th most common form of the disease among people with a cervix in the UK, accounting for more than 3,200 cases every year.
Symptoms can be mistaken for the effects of periods, endometriosis and fibroids and include:
Vaginal bleeding that's unusual for you – including bleeding during or after sex, between your periods or after the menopause, or having heavier periods than usual
Changes to your vaginal discharge
Pain during sex
Pain in your lower back, between your hip bones (pelvis), or in your lower tummy.
If you are concerned that you could have cervical cancer, see your GP.


Post source: Daily Express