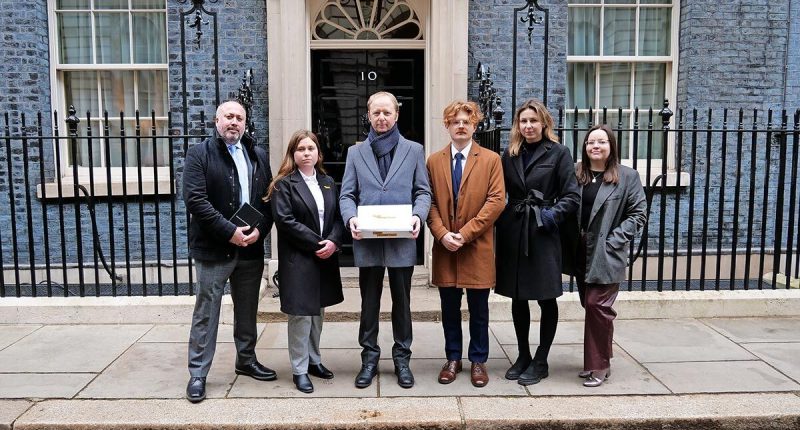 Cystic fibrosis campaigners joined the Daily Express in Downing Street yesterday to plead with the Government to exempt sufferers from prescription fees. Armed with 1,300 signed NHS prescription forms, representatives of the newspaper and the Cystic Fibrosis Trust appealed for the condition to be exempt from charges.
It is thought 2,500 patients in England are using disability benefits to pay for prescriptions to get essentials like antibiotics, protein supplements, vitamins and salt tablets.
In 1968, chronic illnesses such as cancer, diabetes and epilepsy were included in a list of conditions where sufferers can access free prescriptions – a list never updated in the 55 years since.
Cystic fibrosis – a life-limiting genetic condition where mucus clogs up the airways – was excluded as there was no treatment at the time, except antibiotics.
But the Express has since campaigned for new wonder drugs such as Kaftrio to be made available, adding years to sufferers' lives.
To add CF to the exemption list would cost the Government a mere £270,250 a year. In contrast, the Department of Health and Social Care's annual budget is £180billion.
David Ramsden, the Cystic Fibrosis Trust CEO, told us at Downing Street: "We are here to ask Rishi Sunak to add cystic fibrosis to the list of conditions exempt from paid-for prescriptions, to make sure no one with CF has to pay for their drugs and medications that keep them alive.
"This is even more important given the impact of the cost-of-living crisis, which has an acute impact on those with conditions like CF.
"This is an unfair situation that needs to end. It cannot be right that cystic fibrosis and other long-term chronic conditions are not included on the list of exemptions.
"It is over 50 years since that list was updated. For that reason, we now look to the Prime Minister to ensure change takes place."
Since 2019, the Express has successfully fought for, and secured, a range of life-saving treatments on the NHS for Britain's CF sufferers.
In the summer of 2020, our 18-month campaign for new US drug Kaftrio to be made available on the NHS ended in an incredible victory. Now thousands of sufferers, including children, enjoy its benefits.
Those drugs are given to sufferers for free from their hospital CF clinics, but patients must still fund dozens of daily pills and supplements.
Patients in Scotland, Wales and Northern Ireland receive free prescriptions – but those in England do not. The current cost is £9.35 per item, but most CF ­sufferers buy a £108.10 12-month Prescription Prepayment Certificate, enabling unlimited prescriptions in one year.
In February 2022, MPs held a landmark cross-party Westminster debate demanding health chiefs give sufferers free prescriptions.
Candice King, involvement ­manager at the Cystic Fibrosis Trust and a CF sufferer, told us: "The burden of the condition is enormous. The costs add up so quickly.
"That could mean you start having to make tough decisions about what you can afford. I sometimes forgo essential items or even food as I can't afford it all."
A Department of Health ­spokesman said: "We have taken steps to support people with the cost of NHS prescriptions and almost 89 per cent of prescription items in England are already provided free of charge.
"For those not exempt, pre-payment certificates can be used to cap costs at around £2 a week for regular prescriptions."


Post source: Daily Express