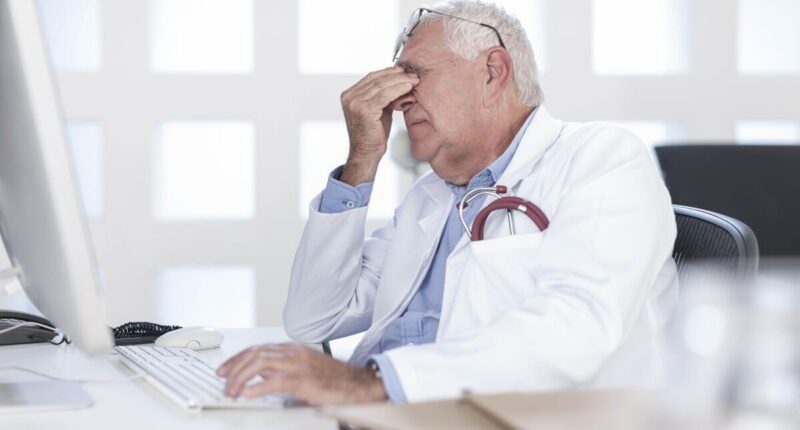 Cases of stalking and harassment almost tripled while injury-assaults nearly doubled, the BMJ found. Professor Martin Marshall, chair of the Royal College of GPs, said: "It's entirely unacceptable for anyone working in general practice to be at the receiving end of abuse of any kind. "The increase in reports of physical violence is particularly distressing.
"The vast majority of patients appreciate that GPs and our teams right across the country are doing the best we can under immense pressure and treat our staff with respect."
Across the 32 police forces that provided full data to the BMJ, 1,068 incidents were recorded in 2021-22, up from 791 in 2020-21 and 586 in 2017-18.
The most recent figures include 182 assaults resulting in injury, up from 98 five years earlier. Cases of stalking and harassment almost tripled to 223. This increase was driven by a surge in threatening letters and emails.
Adam Janjua, a GP in Fleetwood, Lancs, said he recently called the police following a row over a person not wearing a face mask.
He told the BMJ: "They shoved me in the chest. I'm quite a big guy but if it had been someone else he could have done some damage.
"I've had a person threaten to come down and stab me when I least expect it. Staff feel very mentally drained each day. We have a lot of abuse over the phone. Most GPs don't report these types of incidents to the police, as they don't want to get tied up in red tape."
The British Medical Association urged the Government to be "open and honest with the public" about GP shortages and lack of capacity.
Dr Chaand Nagpaul, BMA chairman of council, also urged ministers to make clear "that swift action will be taken against any offenders".
The Department of Health said CCTV, panic buttons and security screens had been rolled out to surgeries. It added that abuse directed at NHS staff "is unacceptable".


Post source: Daily Express