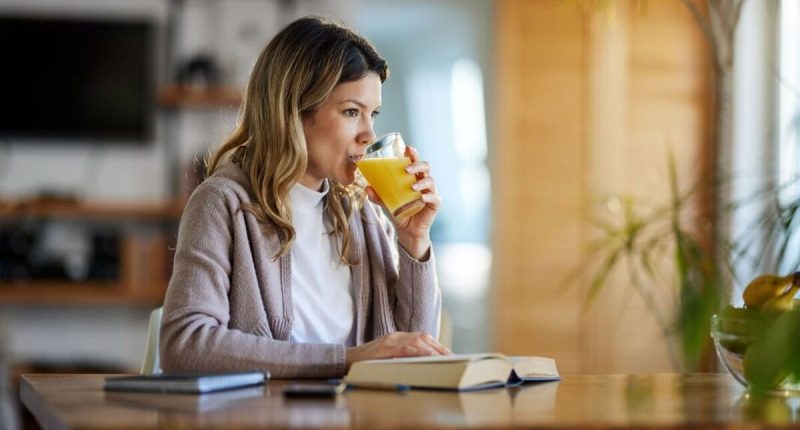 When shopping at the local supermarket, you might come across different fruit juices; some are labelled "from concentrate" while others are "not from concentrate". Could choosing one over the other be influential in blood sugar levels for diabetics? Coe explained: "Unlike whole fruit, fruit juice – whether from concentrate or not from concentrate – contains free sugars."
She explained free sugars are "released from the structure of the fruit", and so its consumption should be "limited".
"We can drink a glass of juice much quicker and in greater quantities than it would take us to eat the number of whole fruits it took to make it," she began.
"So, it's very easy to drink large quantities of fruit juice in a short space of time and this can result in excess consumption of calories as well as sugars.
"This can lead to blood glucose levels going up quickly, which can be a particular concern for people living with diabetes."
READ MORE: 'I thought my symptoms were menopause': Woman, 36, shares unusual bowel cancer signs
Persistent high blood sugar (hyperglycaemia) risks, as pointed out by the NHS, include permanent nerve and eye damage.
"It's not usually a serious problem if your blood sugar is sometimes slightly high for a short time," the NHS notes.
"But high blood sugar can cause serious problems if it stays high for a long time or gets to a very high level."
Warnings signs of elevated blood sugar levels:
Feeling very thirsty
Peeing a lot
Feeling weak or tired
Blurred vision
Losing weight.
DON'T MISS 
An at-home blood sugar test will show over 7mmol/L as a "high" reading when done first thing in the morning, before eating.
A "high" blood sugar reading is typically over 11mmol/L for when the test is done at any other time.
Yet, diabetics are encouraged to speak to their diabetes care team about their target blood sugar levels.
While "unsweetened fruit juices can provide nutrients like vitamins and minerals", Coe said, people should limit their intake to one "small glass" daily (150ml).
READ MORE: Covid 'Kraken' variant is ripping through the UK – symptoms of the disease
Coe added: "If you are living with type 2 diabetes you can still include fruit juice in a healthy, balanced diet.
"But choose pure (100 percent) unsweetened fruit juice and keep fruit juice to one small glass (150ml) per day."
Coe emphasised that "there are many aspects" of a well-balanced and healthy diet when it comes to managing blood sugar levels.
As a nutritionist, Coe is overtly familiar with what constitutes as a healthy diet.
"Characteristics of a healthy diet include plenty of fruits, vegetables and wholegrains," she started.
Coe said people need to incorporate "some nuts and seeds, good sources of protein like beans and pulses, white and oily fish [and] some unsweetened dairy or dairy alternatives".
"It is also important to get enough fluid to stay hydrated so that our body and mind can perform at their best," she added, with "water" being a "great choice".
Sarah Coe is the nutrition scientist at the British Nutrition Foundation.


Post source: Daily Express