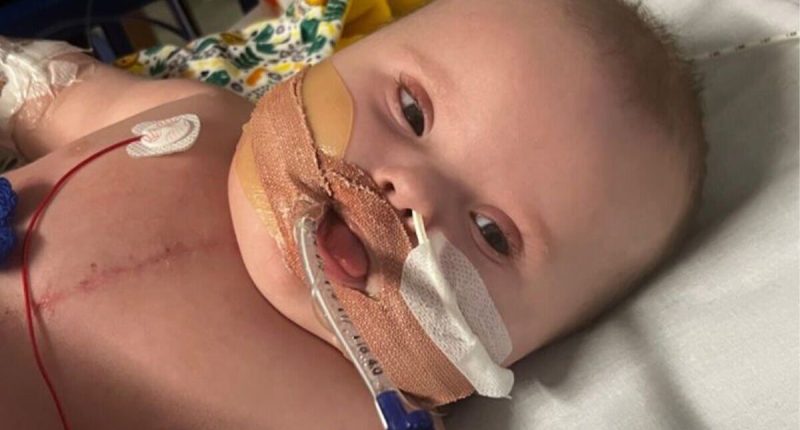 Baby Albie (Image: Lisa Davis)
A mum and dad have faced a long and difficult journey after their baby was diagnosed with a heart defect at birth.
Speaking about their experience, the couple told how little baby Albie was born on September 14, 2022, and spent the first three weeks of his life in hospital due to having a complete atrioventricular septal defect. He was also diagnosed with Down's Syndrome, which caused Tetralogy of Fallot (TOF) which is a combination of four heart defects.
However, the family's troubles didn't stop there as Albie came home on November 10 but soon caught Covid. The covid caused chronic lung disease after damaging his organs and his planned heart surgery to fix the condition was rescheduled for January 2023.
Unfortunately, Albie then got worse, when on December 17 he turned blue and was unable to breathe. His mum, Leah, who hasn't been home since December 2022, rang 999 and he had to be resuscitated.
He caught bronchitis at hospital and was struggling to breathe, reports Leeds Live. Albie stayed in Pinderfields for 3 weeks and then he was transferred to the LGI, where mum Leah and dad Josh, of Wakefield, have spent weeks by his side. Following all this, Albie had open heart surgery in January, but due to complications he had to stay on a bypass machine for longer than first thought, his heart was restarted three times, causing more issues.
His grandma, Lisa Davis spoke about the difficult journey his mum and dad have faced but throughout it all, Albie has stayed super strong.
She said: "He was born with down syndrome, and he has something called TOF, and AVSD, and they are quite rare together. He had surgery in January to repair it, but they didn't manage to fix his Mytral valve, and it's rare for a baby to get a new one because they don't make them for that size.
"Two weeks after his first operation he was back in theatre again, they tried medications but that was risky. He managed to get through but then he got a blood clot in his valve, then on February 23, he died basically, they had to resuscitate him, it took them ages to stabilise him.
"He had a bleed on his brain, it was a really difficult Catch 22 situation, because he needed these blood thinners for the clot on his valve but the strong blood thinners caused a bleed on his brain. Then he went for a scan and they said the clot was gone, and we thought it was a miracle.
"They stopped the blood thinner completely and they found out the clot had come back and it had ruined his new valve."
It has now been seven weeks since Albie had his first open-heart surgery and things are still difficult for the family.
Leah and Josh with Albie (Image: Lisa Davis)
Albie got an infection last week when they planned to do the surgery so it was cancelled. The surgeons couldn't decide if an operation was in Albie's best interests as it was so risky, those few days waiting for them to decide was "absolute torture".
Lisa told of how doctors said they have never come across a baby with a clot on the valve and a bleed on the brain together. There's a risk of a massive brain bleed during surgery and after as he'll need lots of blood thinner to prevent another clot.
The family had a meeting on Thursday, March 9 with a head surgeon at LGI. She agreed to operate today (Wednesday, March 14) but the next few weeks are going to be tough for Leah and Josh.
Throughout all of this, Albie has remained strong and a fundraiser has been set up to help mum and dad take the stress of day-to-day things such as bills and food.
Speaking about the fundraiser, which has raised over £3000, Lisa said: "The fundraiser has been ongoing for about eight weeks I think, it's to help mum and dad. The mum and dad have a room at the hospital and it's really expensive, I was hoping to raise as much as I could so they could have a break somewhere.
"Even just a caravan holiday, because Henry, their other son, also has Down Syndrome. Me and other grandma share the care, he misses his mum and dad, it's just been a nightmare, we expected him to be in a while but not this long.
"We still had a Christmas tree up until yesterday, nobody has been home.
"You wouldn't believe what a difference the money has made, this just takes a bit of strain off, I can't make it better for them, but this helps, they shouldn't be worrying about the bills, they should be focusing on Albie."
To donate to the fundraiser for Albie's mum and dad, click here.


Post source: Daily Express