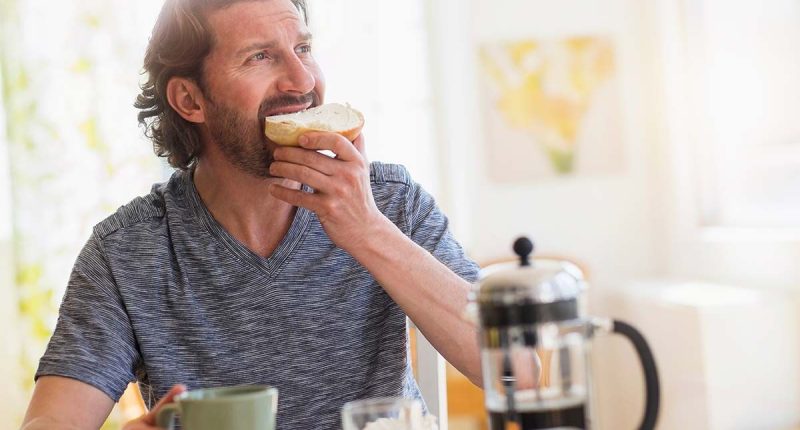 Visceral fat is hidden deep inside your abdominal cavity, surrounding some of your vital organs, such as the liver and pancreas. This tricky location makes the fatty substance a smoking gun – it can trigger serious health problems, ranging from heart disease to diabetes. The good news is that simple dietary tweaks can go a long way when trying to eliminate the culprit.
From granola drowned in milk to scrambled eggs on toast, the importance of breakfast has gone unquestioned for years.
What's more, a study, published in the journal Nutrients, suggests that two breakfast staples could help reduce visceral fat when consumed together.
If you prefer to keep it simple and stick to a quick toast and coffee, you might be onto something.
The research team set out to investigate the link between the daily consumption of coffee or green tea, with and without bread.
READ MORE: The sign when going to the loo that's linked to 'severe' cases of vitamin B12 deficiency
Looking at 3,539 participants, the researchers observed the effects of these two food protocols on obesity, visceral obesity, and metabolic syndrome.
In case you aren't aware, metabolic syndrome describes a combination of diabetes, high blood pressure and obesity.
At the end of the study, the team found that the combination of daily coffee and bread at breakfast time was linked to "significantly" lower levels of visceral fat. However, green tea didn't show the same benefits.
Nutrition expert Penny Weston, the director of Moddershall Oaks Country Spa Retreat and founder of MADE, said: "Coffee and bread for breakfast is certainly a tasty combination. 
"I would say if you have sugar in your coffee and add lashings of butter and marmalade to your bread that you won't see much benefit," the expert added.
Furthermore, this isn't the first research to link bread to lower levels of visceral fat. A study, published in the journal Plant Foods for Human Nutrition, found that wholegrain wheat bread was able to "significantly" lower levels of belly fat in 12 weeks.
Weston said: "Studies have shown that wholegrain wheat bread may be linked to a reduction in visceral fat obesity.
"[This] bread is a source of soluble fibre, which has previously been shown to help weight loss."
Soluble fibre helps to absorb water and form a gel that helps slow down food as it passes through your digestive system, helping you feel fuller for longer, so you end up eating less.
When it comes to the amount of bread and coffee to be enjoyed in tandem, the study didn't specify what is necessary to achieve the reduction.
Weston added: "Research conducted by the Harvard School of Public Health in 2020 revealed that four cups of coffee a day could reduce body fat by four percent. 
"However, I advise people to drink coffee in moderation as too much caffeine can have other side effects such as headaches, fast heartbeat, nervousness and insomnia. 
"Bread, especially wholemeal, granary or brown is a healthy choice as part of a balanced diet as it contains B vitamins, vitamin E, fibre and other minerals. Again, I wouldn't recommend eating too much."


Post source: Daily Express