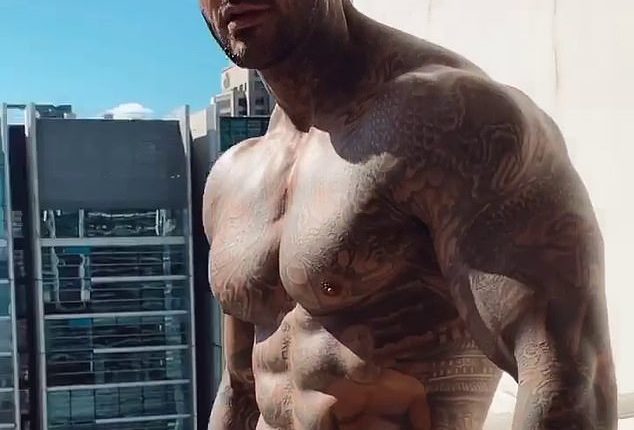 Bodybuilder Instagram star Yakiboy has revealed he's living on a prison diet of canned tuna to maintain his 'Lamborghini' body behind bars after being locked out of the prison gym.
Hossein Balapour has been in jail since being arrested over a wild street brawl allegedly involving the Versace-loving gym junkie and his former friend, trainer Marven Yacoub.
On Monday, the 29-year-old 's lawyer Abdullah Reslan entered not guilty pleas to a charge of affray and one of possessing an offensive weapon before Magistrate Theo Tsavdaridis in the Downing Centre Local Court.  
On the outside, the hulking six foot five, 107kg muscleman normally follows a strict high protein diet as well as lifting weights six days a week. 
But a recent strike at Parklea prison meant inmates had no access to the jail gym and were locked in their cells.
Asked about how his client was faring, Mr Reslan declined to comment, but said Balapour was eating 'canned tuna'.
Bodybuilding influencer Hossein Balapour (above) has pleaded not guilty to two charges stemming from an alleged wild street brawl in which police say he was carrying a weapon
The fitness influencer known as 'Yakiboy' is in Parklea prison (left) and won't be able to apply for bail until late March. Meanwhile he is avoiding high carb prison food (right) and sticking to cans of tuna
Daily Mail Australia understands tuna is one of the items inmates can purchase on their 'buy-ups' list which allows prisoners access to about $60 worth of goods weekly.
Balapour  – who has shunned normal prison fare – is at least behind bars until the second half of March when he may apply for release on bail. 
His bail was revoked two weeks ago following a dawn raid by elite NSW Police Raptor Squad officers who stormed his gym and hauled him away in handcuffs. 
The social media personality's arrest came three days after video footage emerged of him allegedly fighting in broad daylight on a busy road with Marven Yacoub in Sydney's east.
He was charged with breaching his bail and after police successfully applied to have it revoked, he swapped his designer gear for prison greens at Parklea Correctional Centre which went into lockdown over the last weekend in January.
With the guards' union going on strike over safety issues, related to its reputation as the state's most violent jail, inmates were placed under severe restrictions.
This meant Balapour, like all other inmates, was temporarily banned from having visits from family including his wife, Cherish, and their four-year-old daughter, Dream.
Raptor squad cops arrested Balapour in a dawn raid on his gym three days after video emerged of his wild street brawl in broad daylight with another trainer over money 
Balapour was among 1350 inmates locked in their cells with no release into the prison yards for at least 48 hours and food limited to what the jail supplies. 
The Community and Public Sector Union (CPSU) claims Parklea has the worst record for serious assaults on prison officers in the state. 
Before being jailed, Balapour was doing a daily punishing weights regime, with only Sundays off for cardio, and eating a diet of egg whites, skinless chicken breast, kimchi, and lots of greens.
This is so the muscleman can make a living posting pictures of his body on Instagram, modelling clothes and posting X-rated content on his OnlyFans page. 
Balapour was reduced to keeping fit by doing sit-ups in a tiny, shared 2m by 3m cell, although gym access is being restored inside Parklea.
His Instagram page, which has more than 350,000 fans, has been silent since his incarceration.
The hulking six foot five, 107kg muscleman who makes a living out of his 'ripped' body on Instagram and Only Fans has had little access to the gym or to his preferred high protein no carb diet
When he was arrested, Balapour, 28, had been out on bail for a separate assault charge for which he has pleaded not guilty.
In video of the January 17 street fight, Balapour appears to attack Yacoub while the two are standing with a group of men on a road in the inner Sydney suburb of Zetland.
Balapour is an Iranian refugee and former jujitsu teacher and wrestler who came to Australia by boat, was detained on Christmas Island and learnt English while living in backpacker hostels in Queensland. 
It was  a dramatic falling out between Balapour and Yacoub (pictured together in 2019) who previously seemed to have a close friendship
'


Post source: Daily mail