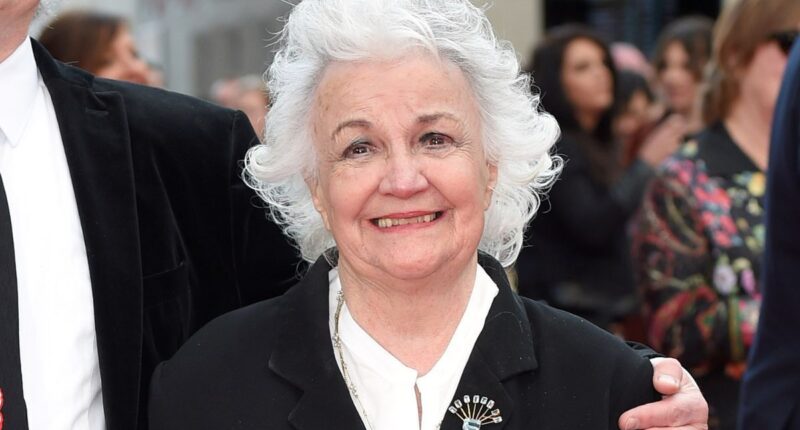 Jean Boht has died aged 91 after battling dementia. The Bread actress' family announced the news of her passing on Tuesday 12 September.
In their statement the family said: "It is with overwhelming sadness that we must announce that Jean Boht passed away yesterday, Tuesday September 12.
"Jean had been battling vascular dementia and Alzheimer's disease with the indefatigable spirit for which she was both beloved and renowned.
"She was a resident at Denville Hall, the home for members of the theatrical profession."
Jean's death comes just weeks after the death of Boht's husband, Carl Davis.
Vascular dementia and Alzheimer's disease are both common types of dementia.
Vascular dementia is estimated to affect around 180,000 people in the UK, and is caused by reduced blood flow to the brain.
Alzheimer's disease is the most common cause of dementia in the UK, but the exact cause is not yet fully understood.
Symptoms of vascular dementia
Vascular dementia can start suddenly to begin slowly over time, according to the NHS.
The health body lists symptoms as:
slowness of thought
difficulty with planning and understanding
problems with concentration
changes to your mood, personality or behaviour
feeling disoriented and confused
difficulty walking and keeping balance
symptoms of Alzheimer's disease, such as problems with memory and language (many people with vascular dementia also have Alzheimer's disease)
It adds: "These problems can make daily activities increasingly difficult and someone with the condition may eventually be unable to look after themselves."
Symptoms of Alzheimer's disease
Alzheimer's disease is a progressive condition which means symptoms develop gradually over many years.
The first sign is usually minor memory problems, for example, forgetting about recent conversations or events and forgetting the names of places and objects.
As the condition develops, memory problems become more severed, and other symptoms can develop:
confusion, disorientation and getting lost in familiar places
difficulty planning or making decisions
problems with speech and language
problems moving around without assistance or performing self-care tasks
personality changes, such as becoming aggressive, demanding and suspicious of others
hallucinations (seeing or hearing things that are not there) and delusions (believing things that are untrue)
low mood or anxiety
Paul Edwards, Director of Clinical Services at Dementia UK, said: "We're sorry to hear that Jean Boht has died having lived with Alzheimer's and vascular dementia for several years, and send our condolences to her family.
"By discussing Jean's experiences publicly, her family will help raise awareness for dementia and Alzheimer's, encouraging them to seek the support they need for this condition. We are grateful for their honesty and hope they are receiving the support they need at this difficult time.
"We urge families affected by dementia to reach out to our specialist Helpline. Staffed by dementia specialist Admiral Nurses, our Helpline offers support and guidance on all stages of dementia, including grieving for a loved one. Anyone affected by dementia can contact the Helpline by calling 0800 888 6678 or emailing helpline@dementiauk.org."  
Post source: Daily Express