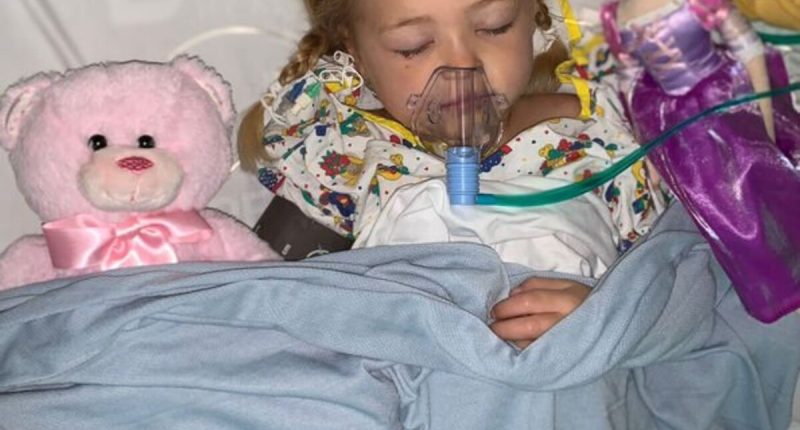 Breaking out in a spotty, blistering rash on July 4, Reign presented with classic signs of chickenpox. Then, three days alter, the youngster developed a high temperature and appeared to be low on energy. Reign developed a red ring around a sore, which her mum, Leanne Passey, found concerning.
Taking her little one to A&E at Russells Hall Hospital, Dudley, Leanne says they were given antibiotics and told to go home.
"By this point the red ring had almost tripled in size," Leanne said, who refused to leave.
"They were adamant they were too busy, she was too contagious and I needed to take her home.
"I said the only way I was leaving was if they kicked me out – she was deteriorating by the second."
READ MORE: Not eating breakfast until 11am could add 20 years to your lifespan – doctor's 'easy' tips
Leanne recalled: "They came back again and said there's no beds. I was crying at this point. I said, 'My child is really poorly and you're dismissing her.'"
Taking Reign to Birmingham Children's Hospital, which involved a lengthy wait in A&E, Leanne noticed her daughter was getting worse.
"Her temperature had gone up to almost 42 degrees, she was hallucinating… she'd gone past the point of screaming and was lying there, almost lifeless.
"I picked her up and carried her through the doors and said, 'Someone needs to see my daughter, I feel like she's dying.'"
DON'T MISS 
"I just want people to understand that it's so serious. It wasn't the chickenpox; it was the strep A that got through the wound."
Leanne stated: "I'd gone from a child with chickenpox to her needing to go in for major op – I was screaming and I thought there's a chance she was going to die."
Given a brief encounter to give Reign a kiss and cuddle, her daughter was then sent into the operating theatre for four hours.
The NHS says treatment for the flesh-eating disease typically involves antibiotics and surgery to remove the affected area; sometimes amputation of the affected limbs is needed.
Now, Reign has been left with a large scar on her side, but she's been discharged and likes to tell people she won "a fight against a crocodile".
A spokesperson for Malling Health, which operates the Dudley Urgent Care Centre said: "We are sorry to hear about the experience recently shared with us.
"We are unable to comment on the specific details of the services provided due to patient confidentiality.
"We are proud of the standards of care provided at our centres and we continue to work tirelessly and collaboratively with local NHS partners to ensure all patients are being provided with safe and high-quality care and support."
A spokesperson for Birmingham Women's and Children's NHS Foundation Trust said: "Chicken pox is a very common childhood illness that would usually last five to seven days.
"In some cases, the skin can get infected, a sign of this could be a high fever after day five, in that situation parents are urged to see a doctor at their GP or Walk In Centre who can prescribe antibiotics to help.
"In some extremely rare cases the infection can be more serious and cause necrotising fasciitis, which can be caused by Streptococcal A, which would be treated at the hospital. We hope that Reign is doing well in her recovery."


Post source: Daily Express