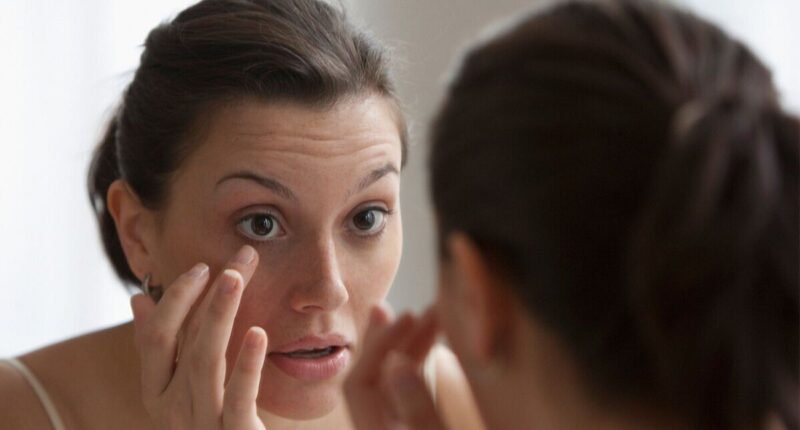 Pancreatic cancer is the 10th most common form of the disease in the UK with around 29 people diagnosed every day.
However, it is the fifth most deadly, accounting for nearly 10,000 fatalities each year.
As with any disease, the sooner you spot the symptoms of pancreatic cancer the sooner you can seek potentially lifesaving medical help.
Doctor Deborah Lee, from the Dr Fox Online Pharmacy, spoke with Express.co.uk about some of the tell-tale signs of pancreatic cancer that should prompt a visit to your GP.
She warned that the first red flag sign of the disease can often appear on the skin and in the eyes.
Dr Lee said: "Often the first symptom a person notices with pancreatic cancer is jaundice.
"Characteristically, pancreatic cancer causes painless progressive jaundice with yellowing of the skin and eyes, dark urine and pale stools.
"Jaundice usually comes on slowly over a period of weeks or months. When pancreatic cancer grows in the head of the pancreas, it can block the bile ducts, obstructing the flow of bile from the liver.
"Bilirubin, the yellow pigment in bile which normally flows into the intestines, is reabsorbed into the bloodstream."
She explained what to look for, including changes it can make to your stools.
"This skin starts to look yellowy/brown in colour, as well as the whites of the eyes," she said.
"Bilirubin normally gives poo its brown colour. Because there is less bilirubin in the gut, the poo becomes pale and putty-coloured.
"Bilirubin in the urine makes the urine dark brown in colour."
However, she added: "Not everyone with pancreatic cancer becomes jaundiced, at least in the early stages. Jaundice does not occur early in patients when the cancer is growing in the tail of the pancreas."
Dr Lee listed other symptoms to look for. She said: "Other symptoms include nausea, vomiting, indigestion, loss of appetite and loss of weight.
"Unexplained weight loss can be a presenting feature of pancreatic cancer.
"Abdominal pain and/or back pain can be present, sometimes described as a pain that is 'boring into you.' Typically, the pain is worse lying flat and better sitting forwards.
"Patients often complain of a change in bowel habit, with smelly, pale greasy stools that are difficult to flush away. Diarrhoea or constipation can be a problem.
"Some pancreatic cancer patients develop diabetes. This is because their pancreas is no longer producing insulin as it should.
"Symptoms of diabetes may be present, and these include feeling thirsty, peeing a lot, feeling weak, feeling hungry, weight loss and having frequent minor infections."
If the disease reaches an advanced stage it can spread to the bones, leading to pain. The bones can also be more susceptible to breakages.
If you experience any symptoms of pancreatic cancer you should speak to your GP.
Post source: Daily Express