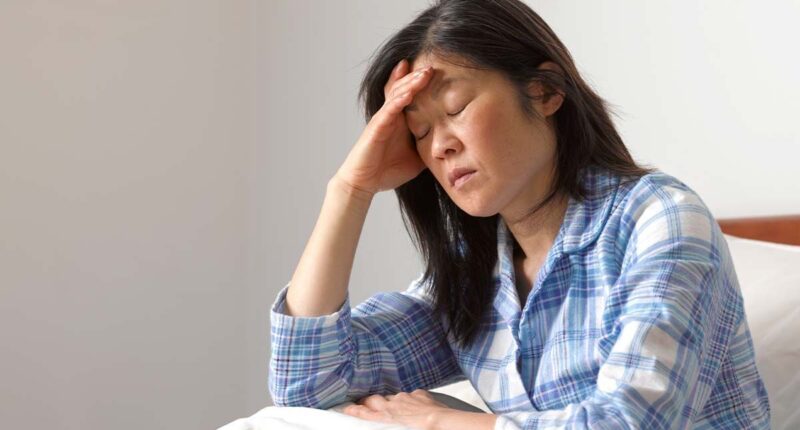 There have been 34 confirmed cases of the Covid variant BA.2.86, dubbed Pirola, in England so far, according to the UK Health Security Agency.
The Omicron spin-off has sparked concern among many experts because of its large number of mutations.
The new strain carries 30 more mutations in the spike protein than the previous dominant variant, Kraken, which could make it more likely to evade the immune system or be more transmissible.
While the low number of cases makes it hard to establish a specific symptom list for Pirola, a professor has shared one sign that could be more intense.
Dr Chris Papadopoulos, Principal Lecturer in Public Health at the University of Bedfordshire, told Express.co.uk: "It's difficult to differentiate a headache specifically caused by the Pirola variant from those caused by other strains or common illnesses.
"[But] there's a possibility that headaches, or any other symptoms, could be particularly intense due to the high number of mutations in the spike protein. 
"However, it's too early for definitive conclusions; more data and analyses are still required."
While headaches were lesser-known symptoms of coronavirus at the beginning of the pandemic, the prevalence of new variants has cemented this uncomfortable problem as a tell-tale sign.
The Zoe Covid Study App previously reported that headaches are actually considered "one of the earliest signs" that tend to strike at "the very start of the illness".
The health portal explained that they usually last for an average of three to five days and are more common than symptoms like cough, fever and loss of smell.
However, headaches are a very common health problem that alone doesn't necessarily indicate Covid, Zoe noted.
Fortunately, the following signs could help you determine whether your headache is linked to the virus as Covid headaches tend to:
Be moderately to severely painful
Feel pulsing, pressing or 'stabbing'
Occur across both sides of the head rather than in one area
Last for more than three days
Be resistant to regular painkillers.
"Although many people with COVID-19 experience headaches, most people with a headache will not have COVID-19," Zoe added.
Apart from headaches, Covid Pirola can also raise other red flags, Dr Papadopoulos shared.
He said: "The Pirola variant, like other COVID-19 strains, presents typical symptoms such as sore throats, runny or blocked noses, coughs (with or without phlegm)."
The professor recommended getting tested if you start experiencing symptoms of Covid.
Post source: Daily Express