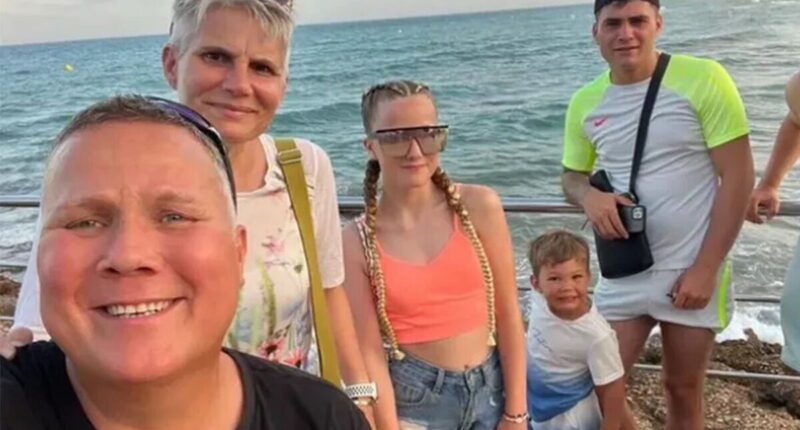 When Justin Butlin would get up every morning at 4.26am to urinate it turned into a bit of a joke for him and his wife Rachel.
But looking back at it now the dad has realised it was a sign of a deadly disease that he missed.
The chance to catch it early was also prevented by COVID-19 as a full health check he had been scheduled to undergo fell during lockdown in March 2020 and was cancelled.
It wasn't until Justin, now 53, experienced a pain in his back, caused by a separate issue with a twisted knee in the spring of last year, that doctors discovered tumours throughout his body.
This led to a devastating diagnosis of terminal prostate cancer.
Speaking to Leicestershire Live, he said: "I knew nothing about prostate cancer – it just wasn't on my radar.
"I didn't notice any of the signs. And then when I was diagnosed in September of last year I was told it was an aggressive cancer and I was stage four – this is the problem with prostate cancer.
"It's a terrible disease and I didn't know the symptoms.
"For the past year I've been telling everyone I can about it and I know several men who have had checks and some have been diagnosed early – I wish that could have happened to me."
Justin, who has a 13-year-old daughter, Daisy, with his wife and is also step-father to Rachel's children Millie, 25, and Fletcher, 21, now has tumours in his eyes, neck, shoulder, ribs and hips.
He is currently undergoing chemotherapy with a drug called Cabazitaxel, after a previous round of chemo with Docetaxel was unsuccessful.
Now Justin, who lives in Houghton on the Hill – near Leicester, and his family are fundraising for another drug that is not available on the NHS.
They hope to raise enough money to pay for Lutetium-177, which costs about £78,000 for a full course.
Justin's friend Annaliese Heighton set up a GoFundMe page for Justin to help raise the money needed.
"I've known Justin for about 15 years and I'm absolutely gutted by what's happened," she said.
"We want to raise money to help Justin now, rather than spend it on flowers for his funeral. I know a lot of people feel that way."
So far the page has raised almost £12,000.
Justin said: "I'm overwhelmed at people's kindness – their kind words and their generosity.
"There are people I know and people I don't know donating and helping me get a treatment that could get me a few more years.
"If it gets me another five years so I can see my daughter go to university that would be wonderful."
To donate, visit gofundme.com/f/justins-treatment-fundraising?.‌
According to the NHS, the most common symptoms of prostate cancer are:
An increased need to pee
Straining while you pee
A feeling that your bladder has not fully emptied.
If you experience symptoms you should speak to your GP.
Post source: Daily Express