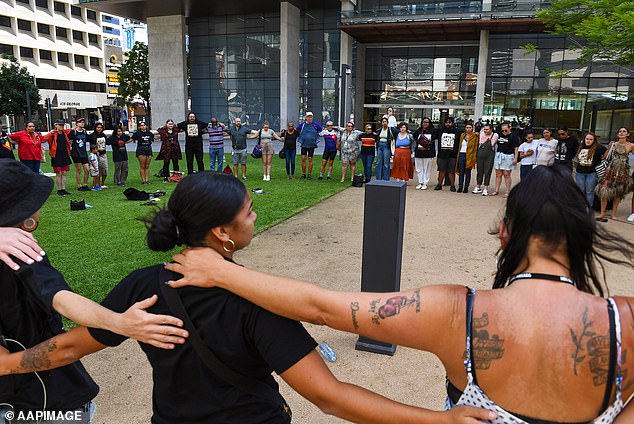 A courts complex has briefly shut down as protestors gathered and chanted outside in the wake of an Indigenous man being shot and killed by police.
An angry crowd gathered outside of Brisbane's Supreme and District Courts in the city's CBD at around 11am on Friday after 27-year-old Aubrey Donohue was shot and killed by police after a four-hour siege in Mareeba, west of Cairns, last Saturday.
Both courts were locked down for around five minutes as protesters reached the front of the court complex.
The lockdown was lifted after Justice Peter Davis noted there were no protesters inside his courtroom.
'So we'll just keep on going,' he said.
Protestors were demanding the release of body-cam footage from the moments prior to Donohue's death. 
A protest demanding that police body-cam footage moments before an Indigenous man was killed by police be released has briefly locked down both Brisbane's Supreme and District Courts on Friday
Both plain-clothed and uniformed police lined George Street, funnelling the hundreds of protestors towards the court complex.
Protestors dispute the police's claim that Donohue had a knife, and could be heard chanting 'justice for Aubrey' as they approached the square outside the courts. 
A microphone was set up outside a nearby Coffee Club, allowing protestors to speak to the crowd.
'When does our liberation start?' one man asked the crowd. 
Protesters gathered outside of the court complex (pictured) following an announcement the previous day that the specialist police officers who shot Aubrey Donohue, 27, were not wearing body-cameras
Police allege that Donohue (pictured) approached specialist officers with a knife after a four-hour siege, leading to him being shot four times at a house in Mareeba, far-north Queensland
Security sent a warning message to the courts at around 11am after protestors reached the front lawn and a lockdown was enabled.
After the lockdown was lifted, those attending either courts were told to exercise caution when exiting the complex as protestors were still nearby.
The siege that resulted in Donohue's death started when police attended a house in Mareeba after reports of a domestic violence incident and a female was allegedly not allowed to leave the house at knifepoint. 
Police allege Donohue approached specialist officers at around 3:30pm while wielding a knife and was subsequently shot four times, dying at the scene despite immediate first-aid. 
Protestors dispute police claims that the siege was started after reports of a domestic violence incident and that he was brandishing a knife (pictured, protesters in Brisbane)
'There was no DV (domestic violence) situation as has been reported to date… we want police to release the body cam footage to us, we will review it,' Victoria Van Schie, Donohue's family member and organiser of the protest, told The Courier Mail.
'He had his whole life ahead of him and it's been stolen.
'He had no knife. He had his mobile phone in his hand.'
The protests at the courts follow protests the previous night at nearby King George's Square after police revealed that none of the specialist officers nearby to Donohue when he was shot were wearing body cameras.
'So specialist officers for practicality reasons generally don't, other officers at the scene were wearing body-worn cameras and we have secured that vision of course,' Mark Wheeler, Deputy Commissioner, told reporters on Thursday.
'But in terms of the specialist police, we're reviewing those arrangements now.'
He went on to say that footage from body cameras on other police officers will play a part in a coronial inquiry. 
Footage from other police officers at the scene will be used in a coronial inquiry, while an investigation is also being conducted by independent officers from the Ethical Standards Command (pictured, protesters)
'Our heart broke and filled with all the emotions of anger, sadness, everything you could imagine,' Grayson Elu, Aubrey's Uncle, told protestors at a vigil during Thursday night's protest.
'It's sad because Aubrey was loved and just like the other families in this situation, he's no longer with us.
'Aubrey my nephew, I miss everything about you. May the lord welcome you with open arms and all the angels, come and welcome you to your favourite songs, love you Aubs.'
It follows protests through the town of Mareeba on Monday which drew around 200 people, including Donohue's family who are demanding answers to the circumstances surrounding their death.
An investigation is being conducted by independent officers from the Ethical Standards Command who travelled to Cairns and Mareeba on Sunday. 


Post source: Daily mail