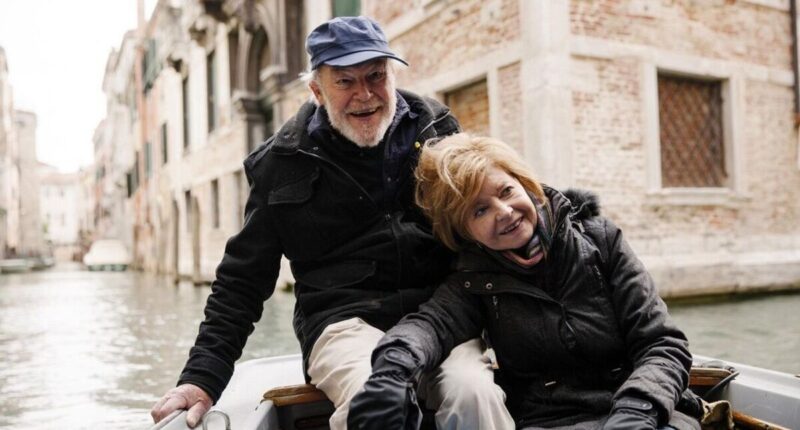 The actor, 88, says he first noticed changes in his wife, 91, in 2001, and took her to a GP in 2004 but she was officially diagnosed with dementia in 2013.
Reflecting on her condition, he said: "Now that her condition has worsened, I miss Pru's companionship as my best friend.
"I miss going to see a play or a concert together and being able to talk about it afterwards because she's long since forgotten what she has seen. But the main thing is knowing Pru's happy and loved."
He added: "Now we live life to the full but stay very much in the moment. Pru doesn't have much awareness of time so when she joins me in the living room, her face lights up as if we've been apart for days. The look on her face makes me realise how much I love her."
The couple have a live-in housekeeper who looks after the day-to-day running of the house. For now Pru is happy there but Timothy is concerned it may not stay that way.
Speaking to Saga Exceptional he said: "She must sometimes wonder whether she is going to be allowed to end her days in this house that has been so dear to us. Not recognising me hasn't been a problem but it will come, I'm sure."
At the weekend Timothy revealed plans to celebrate the couple's diamond wedding anniversary with a party at home next month. He said a birthday party for Pru in June was "amazing".
Elsewhere in the interview with Saga, he also discussed John Cleese's decision to remake Fawlty Towers, which starred Prunella Scales as Sybil Fawlty.
Timothy said: "We are both interested that he feels it's something you could make again.
"But it isn't going to be the same. It's not going to have Pru or Andrew Sachs [the couple's close friend who played waiter Manuel and died of vascular dementia in 2016] in it. I think if it had been me, I'd have said, 'You've done it. It was perfect, people loved it. What else are you going to do?'"
He added: If that's what John wants to do, fair enough. We are very fond of John and think he's brilliant. But will we watch it? I don't know."
The full interview with Timothy West is online at exceptional.com
Post source: Daily Express