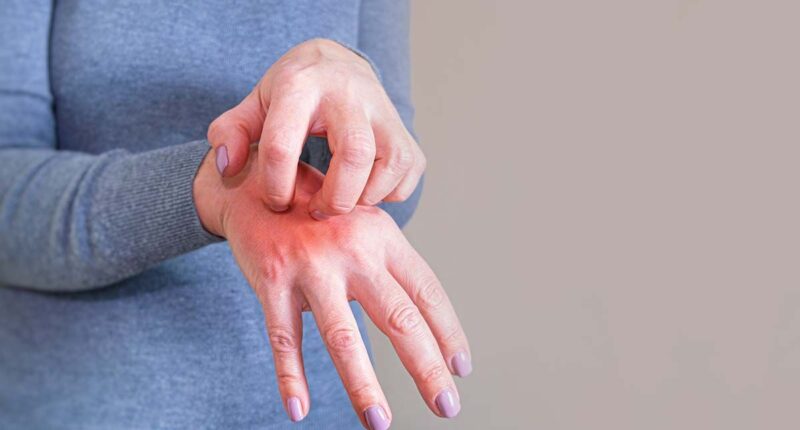 Characterised by an itchy rash that often starts between your fingers, scabies is a condition triggered by tiny mites burrowing into your skin.
While scabies is not usually serious, it does need to be treated, the NHS states.
The World Health Organization explains that the infection can trigger serious complications, including a bloodstream infection, heart disease and kidney problems.
Worryingly, the cream used for targeting scabies is currently in limited supply until further notice, according to a medicine supply notification, issued by the Department of Health and Social Care (DHSC) on September 8.
The notification stated that the stock of permethrin five percent w/w cream is currently limited due to an increase in demand.
Suraj Shah, drug tariff and reimbursement manager at Community Pharmacy England, explained the supply has been subject to disruption for several months, which has been exacerbated by localised scabies outbreaks.
Furthermore, the notification also warned that an alternative to permethrin, malathion liquid, was currently unavailable.
While another treatment cream, known as crotamiton 10 percent cream (Eurex; Thornton & Ross), remains in stock, it "can only meet its current demand for other conditions", it added.
Mabs Chowdhury, president of the British Association of Dermatologists, explained this news could become a "major public health issue".
Chowdhury said: "We are aware of an increasing number of scabies cases being reported in the UK. 
"Given this situation, if supplies of standard topical treatments, such as five percent permethrin cream, are unavailable for treating this debilitating and intensely itchy skin condition, then this is likely to become a major public health issue."
The expert added that scabies commonly targets young children, adolescents and vulnerable adults, with outbreaks often striking in care homes and similar facilities.
Chowdhury said: "We urge manufacturers of permethrin and other widely used topical treatments for scabies, such as malathion, to urgently increase production to avert potential shortages in the UK.
"Unfortunately, alternatives are either unavailable or are unlicensed and very expensive."
Post source: Daily Express