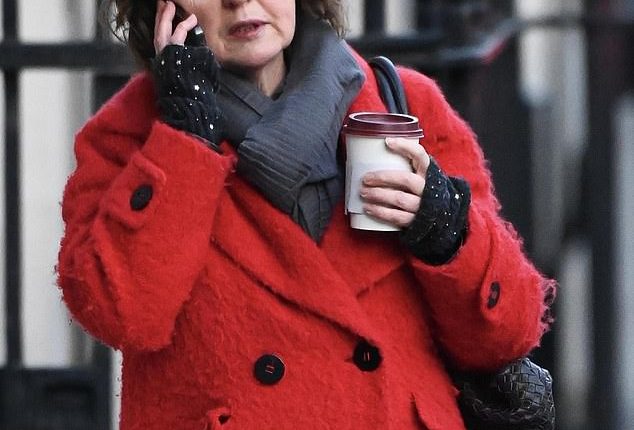 Sue Gray was advising the Government on the Partygate inquiry into Boris Johnson while holding secret talks about joining Labour, it was claimed last night.
In an extraordinary development, it emerged Ms Gray was approached by Labour in November last year, at least three months before her controversial appointment as Sir Keir Starmer's chief of staff became public.
Whitehall sources told the Daily Mail the timeline means she was still advising the Government on the contentious inquiry into Mr Johnson's conduct while secretly talking about moving to Labour HQ.
The former Second Permanent Secretary to the Cabinet Office's report into potential lockdown breaches at Downing Street was published months earlier.
But the newly unearthed contact with Labour will only further muddy already murky waters engulfing a Commons privileges committee inquiry being decried as a 'witch hunt'.
Controversial appointment: Sue Gray
Legal dossier: Former PM Boris Johnson 
One source said: 'Sue's report had obviously been dealt with by November but she was still advising the Government on the privileges committee investigation, specifically on what should be disclosed to them.
'You don't have to be Boris Johnson's biggest fan to think it's a bit dodgy to be secretly speaking to the Leader of the Opposition while still being intimately involved in such a highly sensitive and political matter.'
The claim was disputed by Labour, however Tory MPs last night called for an inquiry into Ms Gray's role.
Mr Johnson will give televised evidence on Wednesday to the committee, which has been investigating claims that he lied to Parliament about lockdown parties in No 10.
His legal team will submit a dossier to the committee today. A spokesman for the former prime minister said: 'The evidence will show that Boris Johnson did not knowingly mislead Parliament.'
Ms Gray led the original probe into lockdown parties at No 10, which was sharply critical of the culture in Whitehall when it was published in May last year.
Committee members have insisted Ms Gray's potential move to Labour is not relevant as she had completed her inquiry.
A Labour source last night insisted that it was 'not correct' to say Ms Gray was still directly advising the Government on Partygate at the time she opened talks with Sir Keir.
The source would not comment on the timing of the talks but claimed there was a 'separate Cabinet Office process' for deciding which information to send to the committee.
Labour leader Keir Starmer delivers his speech at the Welsh Labour Conference
Former Home Secretary Priti Patel said her role needed to be investigated. She said: 'It now transpires Sue Gray may have been in contact with Labour during the privileges committee process.
'This is an alarming development that the committee must take into account. We will need precise answers as to whether and when Labour had any hand in this, and what the extent of contacts were.'
Former Cabinet minister Simon Clarke said the revelations suggested a political 'stitch-up'.
He added: 'This worrying development shows that Sue Gray may have been in contact with Labour while she was in charge of disclosing evidence to the privileges committee. Once or twice looks like a coincidence, but so many examples of Sue conniving with Labour looks like a stitch-up.'
Cabinet Office minister Oliver Dowden said Tory MPs would be given a free vote on whether any sanction from the committee should be applied. Tory peer Lord Greenhalgh branded the privileges committee hearing a 'witch hunt' and called for it to be scrapped.
The committee inquiry was established a month before Ms Gray's report was published.
It is examining evidence around at least four occasions when Mr Johnson may have deliberately misled MPs with assurances that lockdown rules were followed.
His allies said he would provide a 'detailed and compelling' account to the committee before his appearance, showing he 'did not knowingly mislead the House'.
The committee has heavily relied on material released by the Government, including hundreds of private messages. It has now emerged that this process was also overseen by Ms Gray.
Sir Keir Starmer has repeatedly refused to say when he began talks to tempt her to Labour.
A Whitehall investigation is under way into whether Ms Gray broke rules requiring senior civil servants to declare outside interests and seek permission before speaking to the Opposition.
A Whitehall source said that this was continuing, but added: 'It's already clear that Sue didn't do everything she should have.'
Labour did not dispute that Sir Keir approached Ms Gray in November. A source declined to comment on the timeline or on claims Ms Gray was advising the Government on Partygate then.
The source said it was 'not appropriate' to comment while her appointment as Sir Keir's chief of staff was still being considered by the Advisory Committee on Business Appointments.
The committee vets appointments of ministers and senior civil servants leaving government and can recommend new jobs are delayed by up to two years in sensitive cases. In extreme cases, it can even recommend that appointments are not taken up.
Although it has no statutory powers, senior Tories believe Sir Keir would have to abandon the move if the committee rules against it.
Senior Labour figures now fear Ms Gray's appointment may backfire. One source said: 'The only person who still thinks this is a good idea is Keir.'
As ex-head of the government's propriety and ethics team, Ms Gray held one of the most sensitive posts in government and was privy to secrets of ministers' private lives as well as sensitive government decisions.
Allies of Ms Gray have insisted that she would never disclose sensitive information.
They say she was targeted for her experience in government, something Labour lacks after 13 years in opposition.


Post source: Daily mail