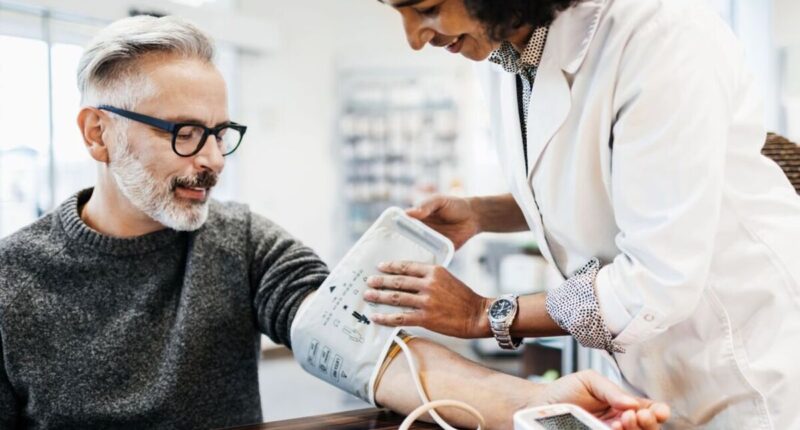 Everybody should aim for at least five portions of fruit and vegetables every day.
Another top tip from Sandhu is to reduce your salt intake which would, otherwise, contribute to a dangerous reading.
"You should avoid adding additional salt to foods or as a seasoning," said Sandhu. "And look out for the 'traffic light coding' on food packaging."
He elaborated: "You should be aiming to eat less than 6g of salt in total per day."
Two drinks you are better off limiting are alcohol and caffeinated beverages, which both raise blood pressure.
"If you're worried, you should pop in and speak to your local pharmacy team," Sandhu advised.
Three top tips to reduce your blood pressure naturally:
Improve your diet by eating at least five portions of fruit and vegetables daily
Do not use salt to season your food
Limit alcohol and caffeinated beverages.
All adults over the age of 40 in the UK are entitled to a free NHS Health Check that involves taking your blood pressure.
While the health check-up can take place annually, or every five years, if you purchase a blood pressure monitor from a pharmacy, you will have access to your reading more readily.
What should a healthy blood pressure reading be?
The NHS says an "ideal blood pressure is considered to be between 90/60mmHg and 120/80mmHg".
The health body says "blood pressure machines vary", but they often have an "arm cuff attached to it".
While the cuff can squeeze on the upper arm, which can feel uncomfortable, it will only last for a few seconds.
George Sandhu is the Deputy Superintendent pharmacist at Well Pharmacy.


Post source: Daily Express