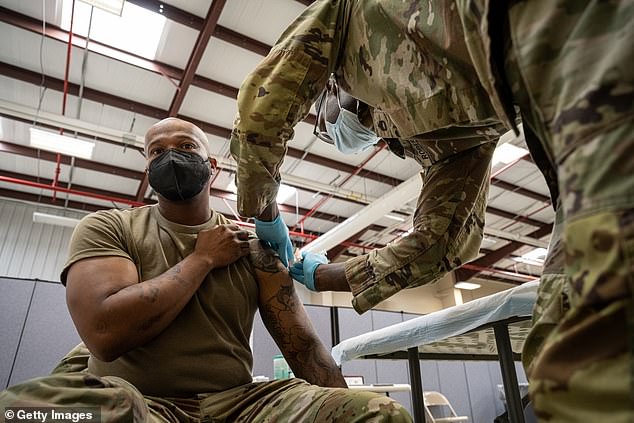 Military service members who were fired for refusing to get the Covid-19 vaccine are being forced to pay back recruitment bonuses because they did not honor their contracts. 
US Army service members are entitled to bonuses of up to $7,000 if they sign up for six years. But speaking to Fox News, an anonymous soldier who was fired in May 2022 after refusing to get the jab, claimed he was told he must repay $4,000 because he had not served six years.
The soldier said he had to 'sell' unused vacation days in order to pay the fee and described the move as the 'final kick in the face'.
Around 3,717 Marines, 1,816 soldiers and 2,064 sailors have been discharged for refusing to get vaccinated, according to Defense Department data cited by Reuters.
The Pentagon officially ended its Covid-19 vaccine mandate earlier this month as part of the National Defense Authorization Act.
Military members who were fired over their refusal to get the Covid vaccine are being forced to pay back their recruitment bonuses
Despite the vaccine mandate for the military ending, Defense Secretary Lloyd Austin has encouraged service members to still get vaccinated against Covid-19
The policy, which was first imposed by the Defense Secretary Lloyd Austin around 17 months ago, was widely criticized by Republicans, while Biden officials blamed concerns on vaccine misinformation. 
The anonymous soldier told Fox: 'I've deployed multiple times, and I feel like the last thing I had was selling leave days that I earned and was never able to take due to me being deployed or needing that time to prepare for the training cycle.'
He continued: 'I was about to enter a new world with no income, and that extra bit would have been a nice buffer in my rainy day fund to keep me afloat until I was able to find new employment'.
Another anonymous soldier said the Department of Defense under Biden has continually fallen short with its treatment of rank-and-file troops. That soldier said forcing repayment of bonuses was the 'icing on the cake.'
That soldier added that the 'appalling treatment' has broken the trust between military service members and government officials. 
He said that if efforts to reestablish trust are not made, it will be hard to recruit new members and keep soldiers in the service. 
He went on: 'The individuals who make public statements that they are unsure what has contributed to the current recruiting and retention shortfalls need to take a look in the mirror; and perhaps they should resign for the betterment of our Nation.'
An anonymous soldier told Fox News this week that the DoD under Biden has continually let down rank-and-file troops
This week, Senator Ted Cruz announced his intention to introduce a bill that would rehire all military members who were fired for refusing the vaccine. 
The Marine Corps announced this week that larger bonuses would be given to recruiters as the branch continues to struggle to meet its goals. 
In its report, Military.com cites the vaccine mandate as one of the reasons for the slowdown in recruitment, noting that there is no 'single root cause'.  
This week, Senator Ted Cruz announced his intention to introduce a bill that would rehire all military members who were fired for refusing the vaccine. 
Cruz said: 'My legislation would provide relief to every one of those servicemen and women, would provide an avenue for those who want to return to service to be reinstated at their prior rank with full benefits.'
The one-time presidential candidate added: 'And for those who choose not to return to service, to ensure that their discharge is honorable, rather than merely a general discharge, and ensure that they receive the full benefits that they have earned defending our nation.'
The bill, known as the the Allowing Military Exemptions, Recognizing Individual Concerns About New Shots (AMERICANS) Act of 2023, has the support of at least 12 other Republican members of the Senate. 
In August 2021, Biden ordered all 1.3million active members of the US armed forces to get fully vaccinated
Speaking about the bill, Cruz told Fox that while the mandate has been stopped from going forward, 'It didn't provide relief to the thousands of servicemen and women who were wrongfully fired, who were targeted for demotion, for forced retirements, for termination.'
Cruz said he is hopeful the bill can make it through the Democratic-controlled Senate and stated his disappointment that the legislation has not received any vocal support from across the aisle. 
The senator ended the interview with a message for service members saying: 'My message to every soldier, sailor, airman, Marine, and Coast Guardsman wrongfully terminated under this abusive mandate is: I will not stop fighting for you. We will keep fighting until you get the relief you deserve and until this injustice is corrected.' 
Defense Secretary Austin encouraged all service members to still get vaccinated and boosted but announced that the military would no longer discharge troops who refuse the shot. 
'No individuals currently serving in the Armed Forces shall be separated solely on the basis of their refusal to receive the Covid-19 vaccination if they sought an exemption on religious, administrative, or medical rounds,' the Pentagon chief said.
'The military departments will update the records of such individuals to remove any adverse actions solely associated with denials of such requests, including letters of reprimand.'
In August 2021, Biden ordered all 1.3million active members of the US armed forces to get fully vaccinated.
Service members who refused to get the shot were threatened with loss of pay, among other disciplinary measures.