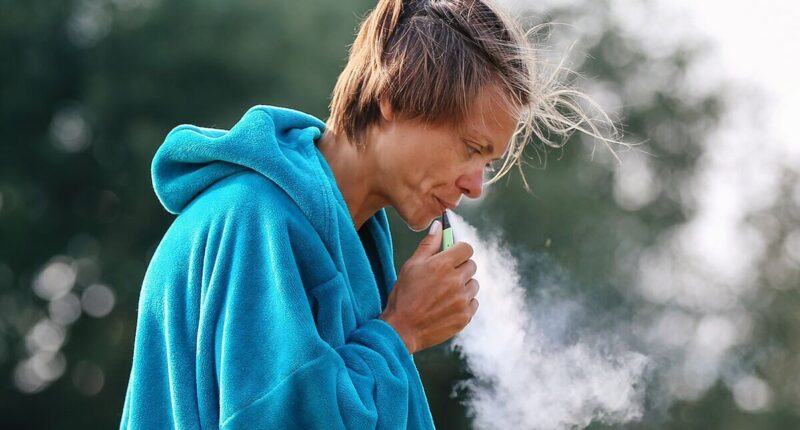 A doctor has shared his concerns that millions of young people could be putting themselves at risk of needing lung transplants due to a common habit.
Doctor Brian Boxer Wachler, an eye surgeon from California, warned that vaping essentially "barbeques the lungs" in a shocking new video.
Via his TikTok channel, the health expert explained why he thought vaping e-cigarettes is more dangerous than smoking tobacco.
In a video, which has amassed more than six million views, he said: "Vape temperatures can be significantly hotter than cigarette smoke, so vape literally could be barbequing your lungs.
"[This could] explain why more younger people who vape need lung transplants versus younger people who smoke cigarettes."
It is still widely believed in the medical community that vaping is safer than smoking due to risks of cancer.
However, research conducted in recent years has found that vaping poses a range of serious health risks, with the lungs and heart most affected.
One study, published in The Journal of Nuclear Medicine, found that vaping causes greater inflammation to the lungs compared to smoking.
And this year the American Heart Association (AHA) revealed that the combination of nicotine, thickeners, solvents, and flavours in vape e-cigarettes poses greater risks to heart health than smoking cigarettes.
In 2022, the AHA also presented research that showed young people who vape had a 15 percent greater risk of stroke than smokers.
Second-hand vaping is also a health issue.
Research by teams at universities in Virginia and North Carolina concluded that when e-cigarette users vaped in their cars for less than 10 minutes, the air around them became thick with potentially poisonous particulate matter known specifically as PM2.5.
In his video Dr Boxer Wachler referenced a 2022 study published in Critical Reviews in Toxicology, which showed that of 11,350 patients with vape lung damage, half vaped both nicotine and THC, the high-inducing ingredient found in cannabis.
"Lung damage can happen with any kind of vape," Dr Boxer Wachler said.
"Please don't vape."
E-cigarette or vaping product use-associated lung injury
The effect of vaping on the lungs is so severe that there is a condition specifically named after it.
E-cigarette or vaping product use-associated lung injury – also known as EVALI – is a severe lung illness linked to the use of e-cigarettes and other vaping products.
It was officially recognised as an illness in 2019.
According to the Centres for Disease Control and Prevention (CDC), symptoms of EVALI include:
Respiratory symptoms, including cough, shortness of breath, or chest pain
Gastrointestinal symptoms, including nausea, vomiting, stomach pain, or diarrhoea
Nonspecific constitutional symptoms, like fever, chills, or weight loss.
"Some patients have reported that their symptoms developed over a few days, while others have reported that their symptoms developed over several weeks," the CDC says.
"A lung infection does not appear to be causing the symptoms."
If you experience symptoms of EVALI you should speak to your GP.
Post source: Daily Express